Daniel Radcliffe doing well in "Kill Your Darlings", says co-star Ben Foster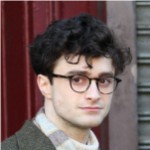 May 12, 2012
Daniel Radcliffe is at it again–breaking out of his role as Harry Potter in a thriller and nailing the role. Even though his role in Kill Your Darlings involves a pair of black-rimmed glasses, Radcliffe is doing well in personifying Allen Grinsberg. Co-star Ben Foster told The Sun that Daniel will "shock" movie audiences with his talent upon the release of the film.
He said: "In terms of Daniel Radcliffe, I admire him so much. He is a
tremendously courageous human, great mind.
"He's done some work in this film which I think is going to shock and impress
and put to bed so many doubting minds.
"Everyone seems to be ready to cut the man down, and he's going to prove them
wrong. He's a hell of a talent."