Original Harry Potter Manuscripts on Tour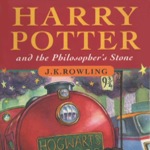 May 12, 2012
Amidst all the exciting Harry Potter news recently, the pen and paper that started it all is being shown at the British Library from May 13–Septemeber 25, 2012. Harry Potter and the Philosopher's Stone manuscripts will be on display with hundreds of other great British literary works, including The Hobbit and The Strange Case of Dr. Jekyll and Mr. Hyde. Entertainment Weekly reports:
According to Jamie Andrews, head of
English and Drama at the library, "Writing Britain celebrates the
incredible collection of great literary works held at the British
Library, spanning more than 1,000 years to the present day. These
rare and unique collections will help give a fascinating and new
insight into the creative thinking behind iconic British novels,
poems, illustrations and more."
The Telegraph originally reported the tour saying:
The work, including a scene from Harry Potter and the Philosopher's Stone where
the character catches a train from Platform 9 3/4 at King's Cross Station in
London, is part of an exhibition at the nearby British Library.
As far as we know, despite the use of the word "tour" in our sources, the manuscripts have a one-stop destination.