Daniel Radcliffe Confirmed for "A Young Doctor's Notebook" Miniseries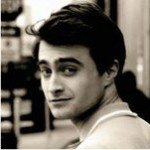 May 17, 2012
The rumor that surfaced a little over a week ago about Dan Radcliffe playing a doctor in an upcoming UK miniseries has turned out to be true. Radcliffe will be starring opposite Mad Men's Jon Hamm in "A Young Doctor's Notebook," a four part miniseries:

Jon Hamm and Daniel Radcliffe have been confirmed as the stars of a new U.K. comedy drama miniseries based on a Russian novel in which they both play the same character.
The pair feature in "A Young Doctor's Notebook," a four-part skein inspired by a collection of short stories by Russian writer and playwright Mikhail Bulgakov set during the Russian Revolution.
Hamm takes the role of the older doctor, who has a series of bleakly comic exchanges with his younger self, portrayed by Radcliffe.
…
Radcliffe added: "I have been an obsessive Bulgakov reader for a couple of years now so when the opportunity to become involved in this project came up, I could barely contain my excitement.
"The book is funny, grotesque and heartfelt in equal measure and I look forward to working with a great group of people to help bring it to life."
You can read the rest of the article here.
Many thanks to Dana for the tip!