Dan Radcliffe Interviews Helena Bonham Carter for Interview Magazine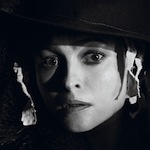 May 03, 2012
In a bit of a reversal of roles, actor Dan Radcliffe (Harry Potter) gets the chance to interview one Helena Bonham Carter (Bellatrix) in the newest issue of Interview Magazine. The Harry Potter film alums discuss Ms. Bonham-Carter's twenty-five plus year career and go through what it takes to continue on for so long in their chosen business. Specifically, she speaks about her non-training and overcoming fears about that when working with classically trained actors, "I certainly suffer from a slight inferiority complex when I step into a room of other actors because I've never trained… Everybody has an inferiority complex when they step into a room. But then when you have children and you get older, it doesn't really matter. When I was young I had so many inferiority complexes. I had an inferiority complex because I didn't go to university. I had an inferiority complex because I didn't train. Then it gets tiring. And you do get bored of it."
The conversation turns to Harry Potter, when Mr. Radcliffe inquires about portraying unique and different roles in British cinema. Quote:

RADCLIFFE: Your Harry Potter character, Bellatrix Lestrange, is one of the scariest characters in the books. But I think it's fair to say that she is very playful and quite sexy as well.
BONHAM CARTER: When they sent the part, I thought, What am I going to do here? Because, actually, on the page, she wasn't all there, so I thought, Well, you've got to be noticed. And Bellatrix-kids were terrified of her. So I think, Okay, I've got to be scary. But then also, if you're with kids, you want to have fun being naughty.
My son, Billy, would ask, ˜Do you have to be the witch or the queen tomorrow?' I thought, Well, that's pretty much my life."Helena Bonham Carter
RADCLIFFE: Do you think you take inspiration from kids a lot? Because I do. They're very honest in how they act and how they are in the world.
BONHAM CARTER: Oh, yeah. They are. And I also think there's a lot of Peter Pan about me anyway. I never really wanted to grow up. I grew up really young. I moved out when I was 13-that's when I started acting. Dad was really ill-he was pretty much paralyzed"so there was a part of me that felt like I had to become responsible.
RADCLIFFE: You thought that you had to provide. Or help, at least.
BONHAM CARTER: Yeah. I was trying to make up for what had happened to him. I wasn't even conscious of it. There was a lot of vicarious living because he was paralyzed. I thought that if I did something, it would make it better somehow.
RADCLIFFE: Which you probably did in some ways.
BONHAM CARTER: In a way, I did.
The interview continues, with discussion of Ms. Bonham-Carter's latest projects, along with her process for preparing for a role. The full interview can be read via this link, but a quick caution to parents as this interview contains some mature language.