"How to Succeed In Business" Closing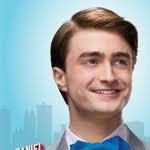 May 09, 2012
After fifteen months of performances, How to Succeed in Business Without Really Trying was handed it's final notice. The show opened in February 2011 with Daniel Radcliffe as the lead. Radcliffe's role packed the theater, and quickly recuperated the $9 million that was initially invested in the musical. Nick Jonas took over Radcliffe's role after Darren Criss, and the cast was unable to continue to bring in expected profits. CBS reports:
When it closes, the revival will have played just over 500 performances
since it opened at the Al Hirschfeld Theatre in February 2011. It
quickly recouped its $9 million initial investment that December, thanks
to its then-star Daniel Radcliffe.
Jonas, best known as part of
the Jonas Brothers boy band, took over the lead this January and had
committed to staying until at least July 1, but ticket sales took a
noticeable hit. Last week, the box office took in just $368,000 out of a
potential gross of $1,394,000.