Rumor: Hogwarts Express Ride to Link Islands of Adventure and Universal Studios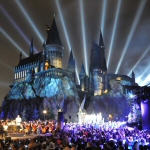 Jun 20, 2012
A theme park blog has revealed Universal's plans to link their two Florida theme parks (Islands of Adventure and Universal Studios Orlando) with a Hogwarts Express attraction:

Universal Orlando finally, though inadvertently, revealed they're going to link their two Central Florida theme parks with a new transit attraction. Their filings with the water management district show locations within both Islands of Adventure and Universal Orlando which are part of a larger overall project to construct what is rumored to be a simulation of the famed Hogwarts Express.
The filings are for the dewatering of retention ponds amid the track of the Dragon Challenge coasters at Islands of Adventure and the service road just south of the old Jaws attraction in Universal Studios Orlando. The Dragon Challenge site plans were originally thought to be explicit enough to include a blatant outline for a train station, but those lines in the drawing are actually for the pump heads to remove the water from the pond and the surrounding silt fence.
You can read more here. Stay close to Leaky for Wizarding World of Harry Potter news!