Entertainment Round Up!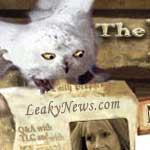 Jun 22, 2012
A number of Harry Potter stars have been in the news for post-Potter projects lately. Mark WIlliams and Katie Leung have become a part of the post-Potter rush.
Mark Williams (Mr. Weasley) is set to star in BBC's Father Brown. Father Brown is going to be a "ten-part" series set to begin next year. Digital Spy and Entertainmentwise report:
The series is based on the short stories by GK Chesterton, following a priest who accidentally finds himself as a crime detective.

Father Brown is set in the parish of St Mary's Catholic Church in Kembleford in the Cotswolds.
It has been reported that Katie Leung (Cho Chang) has joined the cast of a U.K. Channel 4 miniseries called Run.
…"weaves together the stories of four seemingly unconnected people who are facing life-changing decisions in a world where there is little choice and survival is never a given," stated the network.

Ying (Katie Leung) is an illegal Chinese immigrant who sells pirate DVDs and stolen phones on the streets of Brixton in hope of making a life for herself in the UK. But first she must pay her debts to the Snakehead gang who smuggled her into Britain. When an immigration raid leaves her with no friends, no home and no money, an unlikely love story begins which could offer Ying a way out.
Thanks to snitchseeker for the heads up!