J.K. Rowling, John Hurt, and Gary Oldman on new Beatles Album Cover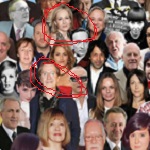 Jun 03, 2012
UPDATE: The photo can now be seen in our galleries.
In order to celebrate 45 years since the release of the Sgt. Pepper Beatles album, Peter Blake (the artist who designed the original, iconic album cover) recreated the album cover with a collage of modern celebrities. A couple of Harry Potter stars made the list. J.K. Rowling is pictured in the second row, center, and Gary Oldman (Sirius Black) is placed next to Audrey Hepburn, three rows down from J.K. Rowling. The picture can be seen at this link.
UPDATE: John Hurt (Ollivander) also made it onto the cover (a little ways down from J.K. Rowling). Thank you to all of you who pointed it out in the comments!