Daniel Radcliffe to Star in "Horns," Bonnie Wright now on Twitter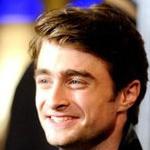 Jul 13, 2012
Variety is reporting that Dan Radcliffe will be starring in "Horns," a supernatural movie based on the book by Joe Hill:

Radcliffe will portray the number one suspect for the rape and murder of his girlfriend. He awakens one morning to find horns starting to grow from his own head and soon realizes their power drives people to confess their sins and give in to their impulses — an effective tool in his quest to discover the true circumstances of his late girlfriend's tragedy.
Shooting is slated to begin this fall.
It is also being reported via Comic-Con that Radcliffe will be doing some voice acting for the show Robot Chicken.
Finally, Bonnie Wright is now on Twitter under the name @thisisbwright.