Cover Art of "The Casual Vacancy" Revealed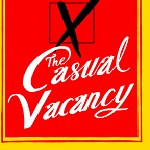 Jul 03, 2012
Update: New image from Amazon that shows the physical book below.
Little, Brown Book Group has released the cover art for J.K. Rowling's adult novel, The Casual Vacancy. You can view the cover art below or here. The company also provided more detail of the "audio reader and confirmed page extent":
Cover design by Mario J. Pulice
Illustration and hand lettering by Joel Holland

Published worldwide in the English language on 27th September 2012 in hardback (£20.00), ebook (£11.99), unabridged audio download (£20.00) and on CD (£30.00).

ISBN 9781408704202 (hardback) price £20.00
ISBN 9781405519229 (ebook) price £11.99
ISBN 9781405519212 (audio download) £20.00
ISBN 9781405519205 (CD) price £30.00

The audio edition of The Casual Vacancy will be read by Tom Hollander, an experienced star of stage and screen.
Notes to Editors
Barry Fairbrother's surname was incorrectly given as Fairweather in our original press release. This was Little, Brown's error and we are correcting it now.

Stay tuned to Leaky for upcoming news!
New image from Amazon that shows the physical book: