Slytherin Wins Inaugural Pottermore House Cup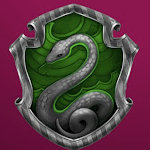 Jul 05, 2012
The shrewd Slytherin House has won the very first Pottermore House Cup!
Hufflepuff came in fourth place with 62,596,368 points, Ravenclaw came in third with 71,815,917 points, Gryffindor came in second with 74,069,919 points, and Slytherin won with 74,290,864 points.
The Pottermore Insider reports:

We will be congratulating the winner in further detail, here on the Pottermore Insider tomorrow but in the meantime, good luck to all and enjoy the ceremony!
Congratulations to all Slytherin students. Professors Snape and Slughorn would be very pleased.