First Pictures of Rupert Grint in "CBGB"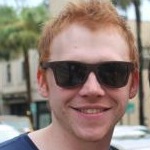 Jul 07, 2012
Update: The photos are now in the galleries!
The first photos of Rupert Grint in CBGB have surfaced. A fan visiting the set in Savannah was able to snap a photo of Grint and his PA, as well as one of Grint and herself. You can view the pictures here, or below.
Thanks to Ice Cream Man for the heads up!