Emma Watson on Moving from Hermione to Sam in "Perks"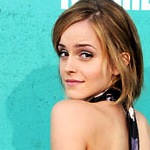 Aug 14, 2012
Emma Watson recently commented on her transition from playing Hermione Granger to playing Sam from The Perks of Being a Wallflower. She talked to Entertainment Weekly about meeting Stephen Chbosky (author, screen writer, and director of Perks) and being convinced to play the role:


"At our initial meeting, he said, ˜Okay, not only is this going to be one of the most important parts you play, you're also going to have the summer of your life and meet some of your best friends.' I thought, ˜That's quite a claim. Who is this guy?" Watson says with a laugh. "Everything he said came true."

style="FONT-SIZE: 14px">

The cast " which includes Logan Lerman and Ezra Miller " all bonded while living in the same hotel in Pittsburgh, which Watson now calls one of her favorite places. It was there that Watson can point to one particular scene " when Sam stands up in the back of a pickup truck driving through a tunnel " as the moment she was able to truly graduate from Hogwarts. "I started as Emma with some Hermione still left in my system' she says. "I went through the tunnel and I came out ready to start something new."


This scene can be seen in the official trailer of The Perks of Being a Wallflower.