JK Rowling to Appear at Cheltenham Literature Festival for "The Casual Vacancy"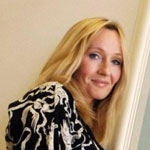 Aug 02, 2012
BBC News is reporting that J.K. Rowling will appear at the Cheltenham Literature Festival on October 6, 2012 to talk about her first adult novel, The Casual Vacancy, and sign copies of the book afterward.
The talk with Ms. Rowling will be moderated by documentary film-maker James Runcie. She will sign copies of The Casual Vacancy following the event.
Set in the small town of Pagford, the novel is described by the
publisher as being "blackly comic, thought-provoking and constantly
surprising."

Jane Furze, literature festival director at Cheltenham
Festivals, said: "The Casual Vacancy has been one of the most talked
about books of the year and we very much look forward to hosting this
wonderful event."
Tickets for the event go on sale August 13 for members of the Cheltenham Festival and August 20 for the general public. Further information can be found at this page.