JK Rowling to Launch "The Casual Vacancy" at Southbank Centre on Sept. 27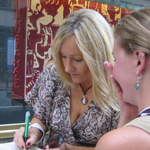 Aug 02, 2012
J.K. Rowling will be in attendance at a special event to launch her new novel, The Casual Vacancy, on September 27 at London's Southbank Centre.
Ms. Rowling will read a passage from the book before taking part in a conversation with journalist and author Mark Lawson and answering questions from the audience. A book signing will follow the event.
Tickets can be purchased beginning tomorrow at 3 p.m. BST at this page. Members of the Southbank Centre can already begin buying their tickets. The event will take place in the Queen Elizabeth Hall at 7:30 p.m.