Harry Potter Limited Edition Film Book Set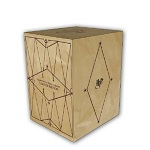 Sep 10, 2012
Amazon UK has unveiled a new Harry Potter book set that details the movie-making journey. This special book set of the films will include "never-before-seen art and text" in five volumes. Also included among the new material is a replica of the set prop of the Monster Book of Monsters, and a cloth-bound Harry Potter: Page to Screen. Only 3000 sets will be sold worldwide, starting December 4, for £552 (about $800 USD). Amazon's description of the set reads:
Worthy of a vault at Gringotts, this amazing limited edition collection features never-before-published art and text chronicling the making of the Harry Potter films. The set is limited to just 3,000 copies worldwide.
Five volumes focus on the filmmaking, showing how the team designed locations, graphics, costumes, creatures, and special effects. Inside you'll find a deluxe book of the paintings of Hogwarts along with a keepsake book chronicling the lasting relationships between cast and crew. The final volume is a cloth-bound edition of the New York Times Best-seller, Harry Potter: Page to Screen. Completing the library is a scale prop replica of The Monster Book of Monsters, along with a gilded, oversized portfolio with five frame-able prints of concept art. All of these precious objects are housed in a collectible box that looks like it came from Diagon Alley. Arriving at your doorstep with a numbered certificate of authenticity, this limited edition is the ultimate collectible for any wizard of Muggle.
Product Features:
A deluxe cloth-covered case, styled to look like a box from a shop in Diagon Alley
A replica of The Monster Book of Monsters film prop
A gilded portfolio of five frame-able prints of original Harry Potter concept art.
A cloth-bound edition of Harry Potter: Page to Screen
7 additional volumes detailing the Harry Potter creative team's ten years of extensive efforts:
*
The Creature Shop Compendium: Flora and Fauna from the Harry Potter Films
* Environments Envisioned: Building Fantastic Sets and Scouting Dramatic Locations
* A Guide to the Graphic Arts Department: Posters, Prints, and Publications from the Harry Potter Films
* Movie Magic: Practical Props and Exciting Effects
* The Paintings of Hogwarts: Masterpieces from the School of Witchcraft and Wizardry Sets
* Ten Years Later: Life on Set with the Harry Potter Cast and Crew
* Wizard Wear and Muggle Attire: Costuming the World of Harry Potter