Daniel Radcliffe and Emma Watson at the Toronto Film Festival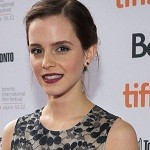 Sep 11, 2012
Both Emma Watson and Daniel Radcliffe made appearances at the Toronto Film Festival earlier this week. As reported before, Emma Watson was promoting her new movie The Perks of Being a Wallflower, which premiered at the event. Daniel Radcliffe was also at the festival promoting his new movie, The F Word, which had just finished filming scenes in Toronto. Emmat Watson tweeted:
Did I tell you we got a standing ovation in Toronto Film Festival ? : )
Erdem – thank you so much ! I loved wearing this dress so much!!!!!
Onto LA tomorrow for the Perks Premiere !
Pictures of Mr. Radcliffe and Ms. Watson have appeared, and can be seen below. We will have more on the Perks premier in L.A. shortly. Thank you to SnitchSeeker for the Radcliffe pictures!