Bonnie Wright to Do Performance Benefiting Oxfam on October 14th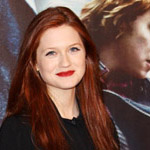 Sep 13, 2012
Bonnie Wright will be performing at the Oxford Playhouse on October 14th, as a part of Eight Stories High:

Seventy years ago, not far from Oxford Playhouse, a small group of people were moved by stories of poverty and suffering. They wanted to make a difference, so they created Oxfam.
Oxfam invites you to an exclusive evening of storytelling, performance, big ideas and surprises. You'll be one of many special guests, alongside Kristin Davis, Michael Eavis, Ian Hislop, Victoria Hislop, John Simpson, Raymond Blanc, Richard Reed, Bonnie Wright and Tabu Flo. Even more will be revealed on the night along with video contributions from Colin Firth, Livia Firth and Angelique Kidjo. Be moved by tales of courage, passion, innovation and perspiration. And get a unique insight into what the leading lights in entertainment, business and the arts feel about the world today.
Tickets are £50 each and you can buy them and find more information here.
Many thanks to Nancy for the tip!