Jk Rowling Specials on BBC2, BBC Radio 4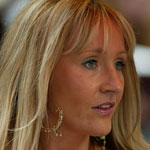 Sep 13, 2012
JK Rowling is to be interviewed about her new novel, The Casual Vacancy (to be released on September 27), on BBC2 and BBC Radio 4. Both shows will broadcast the week of her novels release. On Wednesday, September 26, at 10:00-10:30 PM, BBC 2 will air their special: JK Rowling – Writing For Grown-Ups: A Culture Show Special. The BBC report:
One of the most hotly anticipated books of the year, The Casual Vacancy is published on 27 September 2012 and details are shrouded in secrecy. Expectation and pressure are enormous. In this Culture Show Special, broadcast the night before the novel is published, JK Rowling will finally reveal the exact nature of the novel, with exclusive readings and in-depth discussion about its ideas, characters and inspiration.

Interviewer James Runcie will meet the notoriously private writer in her hometown of Edinburgh to find out about the pressure and pitfalls of following up the 20th Century's biggest literary phenomenon. Rowling will reveal how she finally moved on from Potter and the challenges of making the leap writing fiction for adults.

Runcie believes The Casual Vacancy is an intensely personal and passionate work, reveals unseen facets of the writer and will shock many of her fans. The world has changed since 2007, and Rowling has taken on some huge themes.
It seems Runcie may have vicariously just stated the first book review of The Casual Vacancy. The rest of the article can be read here. On Thursday, September 27, from 7:15-7:45 PM, BBC Radio 4 is to release their Front Row — JK Rowling Interview. The BBC states:
In a wide-ranging conversation with Mark Lawson, JK Rowling discusses the inspiration for her new novel The Casual Vacancy, and also reflects on the Olympic opening ceremony, the effects of her success with Harry Potter ' and whether she will return to her most famous character.
Thank you to our friends at SnitchSeeker for the tip!