Video Roundup: J. K. Rowling Interviews (UPDATED)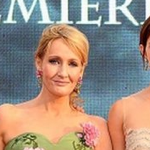 Sep 27, 2012
We have quite a few video interviews with J. K. Rowling today. We have a few more clips from Rowling's interview with ABC which can be seen here and here or below. We also have an interview from Australia's ABC1 where Rowling discusses the impact her mother's death had on her and you can watch that here or below.

We also have a nearly half hour video special called "Writing for Grown-Ups: A Culture Show Special." In it Rowling reads several excerpts from The Casual Vacancy and strong language is used so please be aware of that. You can watch this video here or below.


Many thanks to SnitchSeeker for the tip.
UPDATE: A full version of ABC1's JK Rowling: Life after Harry Potter can now be viewed online (below).