Emma Watson to be Featured on the Cover of the October Issue of Glamour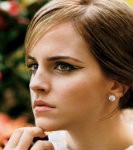 Sep 04, 2012
Emma Watson will be on the cover of the October issue of Glamour magazine, and the Glamour magazine site has released a excerpt from her interview. In the interview Watson talks about a variety of topics, including why she decided to stick with acting:

Emma Watson on what acting in her new film, The Perks of Being a Wallflower, made her realize about her career¦
"Making this movie was so pivotal for me because I realized I do really want to be an actress, which wasn't something I fully knew, since Harry Potter was such a singular experience. Obviously I'm nervous to see what other people think, but it kind of doesn't matter to me. It's so cheesy to say this, but it's the journey, not the end goal, that's important."
Watson also discussed what it was like working with a stylist and how she feels about having short hair:

Emma Watson on working with a stylist¦
"Yeah, I have to at this point. When I was younger, I used to do it all myself, but I've had to get help because it's gotten to a stage where I can't show up in my Converses or whatever I bought from High Street. And just practically, these gowns are ridiculous. You're being photographed from every angle, so not only do you have to consider how the thing looks, but whetheryou're going to be able to sit in it and whether people are going to be able to see up your skirt."
Emma Watson on growing out her hair versus keeping it short¦
"I have to for roles. But if I had it my way, I would have just kept it short forever. Of course, men like long hair. There's no two ways about it. The majority of the boys around me were like, "Why did you do that? That's such an error." And I was like, "Well, honestly, I don't really care what you think!" I've never felt so confident as I did with short hair"I felt really good in my own skin."
You can read the rest of the article here.