Pottermore: Sneak Peek at New Content from JK Rowling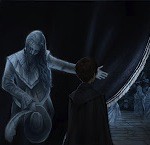 Sep 05, 2012
Pottermore has released an excerpt from Chapter Eight: The Deathday Party of Harry Potter and the Chamber of Secrets. This excerpt is about new character information on Peeves the Poltergeist. Pottermore Insider also stated that the next installment should be arriving to Pottermore "shortly". Pottermore Insider reports:
This week, we're sharing an excerpt of exclusive new content from J.K. Rowling that can be found in the next instalment of Harry Potter and the Chamber of Secrets, which will be released shortly.

In Chapter Eight, at the Deathday Party, you will be able to unlock brand new material on Peeves the disruptive poltergeist.

Have you ever wondered how Peeves gets away with causing so much havoc? Maybe you've been wondering about the other past caretakers who have had to endure Peeves' troublemaking and the attempts made to control him? You'll be able to learn all of this and more as J.K. Rowling shares information on poltergeists and the many antics of Peeves.

Here's a snippet from this new exclusive entry:

Keep reading the Insider for more news on the next chapters but in the meantime, why not let us know what exclusive content you've most enjoyed reading on Pottermore. You can do this by checking out our Twitter and Facebook pages and taking part in our conversations there.
Stay close to Leaky for more updates on Pottermore!