David Thewlis in "Red 2"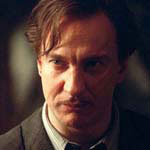 Sep 08, 2012
David Thewlis (Remus Lupin) has joined the cast of Red 2. The cast includes Bruce Willis, Helen Mirrin, and John Malkovich. Thewlis (whose character is called The Frog) joins the others who star as special agents who have been forced out of retirement. The Hollywood Reporter states:
Thewlis is playing a character called The Frog, an information dealer who got his name by poisoning the water supply at the Kremlin using a poisonous Amazonian frog.

Thewlis' recent credits include Steven Spielberg's War Horse and Luc Besson's The Lady. He is repped by CAA and Ken McReddie Associates.
You can read more of the article here.