Evanna Lynch in "Sinbad": New Clip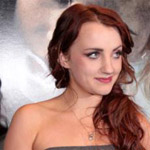 Sep 08, 2012
The first clip of Evanna Lynch in the new Sky series Sinbad has been released. The clip is a scene that shows Lynch's character (Alehna) being rescued by her mother and Sinbad (and can be seen below). Two more Potter stars join Evanna Lynch in the cast: Timothy Spall (Peter Pettigrew) and George Harris (Kingsley Shacklebolt). The 12-part show comes to US TV April 13, 2013; the show will begin in the UK later this month. SnitchSeeker reports:
"When mystical meets muscle, anything can happen in this exciting, action-packed
series. With its strong production values and rich story, Sinbad will be a
terrific addition to our primetime lineup' said Chris Regina, Syfy's SVP
programming & original movies.
Thank you to SnitchSeeker for the heads up!