James and Oliver Phelps to Appear at Harry Potter: The Exhibition in New York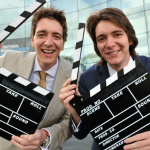 Feb 08, 2013
James and Oliver Phelps will be meeting fans at Discovery Times Square in New York, which is currently hosting Harry Potter: The Exhibition. The Phelps twins will be there on February 16th, 17th, and 19th from 11:00 am to 1:00 pm:

Patrons must buy tickets to Harry Potter: The Exhibition for any time slot on 2/16, 2/17, or 2/19 and be in line to meet the twins by 1pm on the day of their purchased ticket. Patrons may not enter the autograph line after 1pm. Tickets are in high demand and will sell out quickly, so we recommend buying in advance. Guests may only have one item signed by the Phelps twins (Harry Potter postcard will be provided).
You can purchase tickets for the Exhibition and find out more about it here.