Dan Radcliffe Talks "The Cripple of Inishmaan"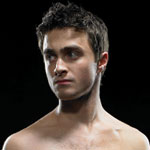 May 27, 2013
In a new interview, Dan Radcliffe spoke about his news stage role as Billy in "The Cripple of Inishmaan":

Radcliffe was speaking as he prepared for his latest onstage role as Billy, a lame village idiot who dreams of becoming a film star, in Martin McDonagh's The Cripple of Inishmaan, which is to open next month in London's Noël Coward Theatre.
In the play, Billy is slapped around by one of his aunts, played by Gillian Hanna, whom Radcliffe had to persuade to hit harder: "All of that getting beaten up stuff is brilliant. I encourage people to just hit me harder. The actress, Gillian Hanna ' she's not going to do permanent damage by smacking me in the head. She doesn't like hitting people, understandably, but I've got her into it now, I think."
Radcliffe also spoke about a potential tattoo he'd like to get, and his aspirations for fatherhood. You can read the rest of the interview here.