Tom Felton cast in "Full Circle"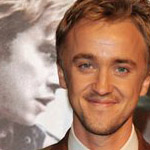 May 27, 2013
Buffy the Vampire Slayer's Angel (David Boreanaz) and Tom Felton have been cast to team up in DirecTV's original series Full Circle. Full Circle is a 10-episode drama that features two characters, speaking to one another in a restaurant, during each episode. One character will create a bridge to the next episode, which will feature two different characters. The season finale then brings the audience full circle (pun definitely intended), back to the original two characters–featuring all the characters at once in the series' final episode. The airing date is still unknown, as the series is still in production. LA Times reports:

Joining Boreanaz and Felton are Kate Walsh,

Minka Kelly

,

Julian McMahon

,

Keke Palmer

,

Devon Gearhart

,

Bill Campbell

, Noah Silver,

Ally Sheedy

, Cheyenne Jackson and

Robin Weigert

.
The connections are sometimes surprising: McMahon plays a high-powered entertainment lawyer, while Kelly plays his wife. And Boreanaz plays his client, a famous comic with a wild streak, while Palmer plays someone whose life was forever changed as the result of a joke the comic took too far.
Production on the series will begin at the end of May in DirecTV's Los Angeles Broadcasting Center.
"Full Circle" will be DirecTV's original series follow-up to "Rogue," the police drama starring Thandie Newton that debuted in April. Previously, DirecTV had picked up series that began on other networks to finish their runs. It produced three seasons of "Friday Night Lights" when it was going to be canceled by NBC and it produced two seasons of "Damages" when it was in danger of being canceled by FX.