Evanna Lynch to star in "Houdini"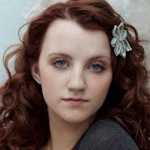 May 05, 2013
Evanna Lynch has been cast as the wife of famous stage magician, Harry Houdini, in the new stage production Houdini. The role of the protagonist has yet to be cast, but BAFTA award winner Stuart Brennan will be playing Harry's brother Theo. Houdini will tour to stages throughout the United Kingdom. Tickets go on sale starting May 6, and the production will hold its premiere at the Stoke-on-Trent Repertory Theatre September 9, 2013. The synopsis of the show can be read here, and below. Many thanks to SnitchSeeker for the tip!

To be the greatest, you have to be willing to sacrifice everything. The highly successful Brothers Houdini soon find this out, as their death-defying feats start to draw in ever bigger crowds and ultimately attract the attention of the major theatre promoters.
Join us for what promises to be an explosive theatrical spectacle, when the prestigious promoter Martin Beck offers only Harry an opportunity that will change his life forever.
This intricate look inside the lives of two of the greatest performers the world has ever seen, explores the impact of family, love and jealousy. Watch as two masters of the stage perform, entrance, delight and surprise, performing a number of famous illusions in this gripping life story that is certainly not for the faint-hearted.
Discover the legend. Believe in the magic.