Harry Potter Pez Dispensers to be Released in 2015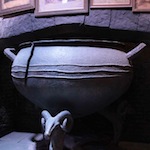 Jun 02, 2013
Pez has announced that they will be collaborating with J. K. Rowling for a Harry Potter related line of Pez dispensers, which will be available in 2015:
"I'll give you one for 2015," speaking about which new Pez dispensers are on the horizon. "It's taken me about five years to get it. And that's Harry Potter." He didn't detail what it would look like only that "JK Rowling definitely will be involved."
It typically takes about a year and a half and lots of planning to bring the 6.5 inch dispensers to life. From Mickey Mouse to Santa Claus and Darth Vader in between, the list of larger-than-life characters immortalized by the company is long.
Vittoria says they've already begun designing the Harry Potter dispensers. Like other limited-edition sets, all 250,000 of the dispensers designed like the boy wizard will be numbered.
You can read more from the article here. Many thanks to SnitchSeeker for the tip!