Source of Galbraith Leak Revealed, JKR "Very Angry"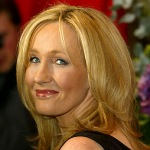 Jul 18, 2013
When The Sunday Times first broke the news about J.K. Rowling being the real author of The Cuckoo's Calling
, it was mentioned that a tip on Twitter had led to the eventual reveal.
According to the Huffington Post, that anonymous Tweeter has now been traced. London legal firm Russells stated on Thursday that Chris Gossage, a partner at the firm, had informed his wife's close friend Judith Callegari about who Robert Galbraith really was. Callegari subsequently posted a Tweet on the subject, although her account has now been deleted.
In a statement to Rowling, Russells apologised. Rowling and her agent were immediately informed once the firm learned what had happened, with Russells confirming that the leak was not part of a publicity plan by Rowling.
For her part, Rowling has made her feelings clear. According to the Huffington Post:
Rowling said that "only a tiny number of people knew my pseudonym and it has not been pleasant to wonder for days how a woman whom I had never heard of prior to Sunday night could have found out something that many of my oldest friends did not know."

"To say that I am disappointed is an understatement," she added. "I had assumed that I could expect total confidentiality from Russells, a reputable professional firm, and I feel very angry that my trust turned out to be misplaced."
News about the book's real author has sent sales and demand for The Cuckoo's Calling skyrocketing, with a special Robert Galbraith website and possible accompanying Twitter account set up. The site contains a lengthy FAQ by Rowling on the many questions surrounding The Cuckoo's Calling since her outing as the author behind it.