Warrant Issued for Leaky Owner's Cyber Stalker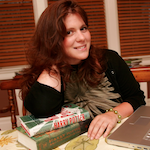 Jul 18, 2013
id="nrelate_flyout_placeholder" style="box-sizing: border-box; margin: 0px; padding: 0px; direction: ltr; color: #404040; font-family: liberation-serif, serif; line-height: 9.333333015441895px;">
Today the New York Daily News broke the story that a warrant has been issued for the arrest of a woman who has been cyber-stalking Melissa Anelli, the owner of The Leaky Cauldron and LeakyNews websites.
The FBI has secured a warrant for Jessica Parker, a resident of New Zealand. This news follows a five-year long cyber-stalking ordeal, which has included harassment and threats sent to Anelli, her family, and even spammed on the sites that she owns (including LeakyNews). It began in 2008 when Parker was banned from The Leaky Cauldron for harassing staff, and it's carried on since.
Though Parker was previously arrested in New Zealand in connection with the stalking and harassment, it ended in deferred prosecution, and thus this behavior has continued unchecked. Now, with a warrant for Parker's arrest served up by the FBI, there may be a better chance of justice being served.
We on the LeakyNews staff are incredibly grateful that the FBI is working to guarantee the safety and security of our founder. The court documents paint a picture of a frightening and unbalanced individual, who routinely made violent threats against the lives of herself, Melissa, and many others connected to her. It's not the kind of thing that anyone should ever have to deal with.
Melissa Anelli had the following comment to make regarding the development:
"It has been a long five years of continuous threats and abuse, not only to me but my family, friends, and colleagues. I only hope it's carried through to justice being served. I want to thank the Leaky community for its constant support over the past decade-plus, for its support now, and for its understanding while I refrain from discussing particulars in order to assure this sees a proper end."