(Live Updates) Universal Webcast Reveals Even More Details About Upcoming Park Expansion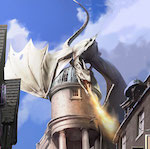 Jan 23, 2014
Are you watching the Web cast? We'll be putting all the new details up in this post (and updating our previous one FULL of details about the park here) with all the new details! (Remember, LeakyCon 2014 is in Orlando this summer and will be having a special celebration in this park…)
-Mark Woodbury has opened the Web cast talking about the new hotel being added to Universal as well as the upgrades being done to Universal CityWalk.

-We are "months away" from the opening of Diagon Alley. It will open "this summer." This is a change from previous reports of spring.
-It will be "just as authentic" as Hogsmeade.
-Confirms that you will be riding the Hogwarts Express between Universal Studios and Islands of Adventure. "One of a kind two-part experience that will completely immerse you in the stories from the books." Need a park-to-park ticket. "Seamless adventure that connects Diagon Alley to Hogsmeade." You can board at either side.
-Thierry Coup is showing people around the Hogwarts Express and Evanna Lynch is inside!

-Matt Lewis and James Phelps talk about the shops inside the park. Star charts, cauldrons, time turners will be available at Wiseacre's. There will also be a Magical Menagerie, Scribbulus's, Quality Quidditch Supplies.
-James Phelps held Matt Lewis's hand going down Knockturn Alley 🙂 It will have a Borgin and Burkes.
-Harry Potter and the Escape from Gringotts is going to "bring the movies to life." Says when you saw the movie you knew "right away this was a ride waiting to happen. Sounds as though it is based in the movie seven escape sequence.
All on set, answering questions now:



Evanna: "It was special because, people think we've seen it all but we've never seen it all put together. Seeing it put together and going from the London theme into Diagon Alley was a really cool experience."
Matt Lewis: "What you guys have creative is a fully immersive, 3D environment. That's a unique experience. That's not something I've ever done before here. It's pretty special."
They're talking favorite parts: Matt says that he loves how identical it is to London. James says Gringotts is true to how it's filmed. Evanna says the dragon is her favorite as well, and that she's happy that the dragon is out on the roof because it made her sad he was underground.
Don't forget to read our full report here! In the meantime check out some of the photos below: