Food Options in Diagon Alley Expansion Revealed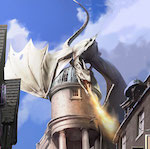 Jun 09, 2014
More details on what you can expect to eat – and drink! – at the Diagon Alley expansion at Universal Studios Florida have been revealed. The menu for the Leaky Cauldron appears to be traditional British fare, while the drink options veer more into the magical and fantastical. Read here or below for the Leaky Cauldron food and beverage options, as well as the flavors you can expect to find at Florean Fortescue's ice cream parlor:

First up is the Leaky Cauldron " where I got to take a sneak peek earlier this week. It looks just like it does in the films¦all the way down to the huge cauldron that sits in the middle of the restaurant. Here, you™ll be able to enjoy delicious British fare like¦
Bangers and Mash (traditional roasted sausages with creamy mashed potatoes)
Toad in the Hole (traditional sausage baked into a Yorkshire pudding and served with onion gravy)
Cottage Pie (a savory combination of meat and vegetables in a potato crust)
Fisherman™s Pie (salmon, shrimp and cod baked together under a potato crust)
Beef, Lamb & Guinness Stew (served in a bread bowl)
Ploughman™s (a feast of English cheeses, crusty bread, cornichon pickles, apple beet salad, Branston pickle and a Scotch egg)
Split Pea Soup
Banger Pub Style Sandwich
Fish and Chips
And more!
And you can finish off your meal with scrumptious desserts like Chocolate Potted Cream, Cranachan and Sticky Toffee Pudding. There will also be breakfast served at the Leaky Cauldron with two new breakfast items, only available at Diagon Alley: an Apple Oatmeal Flan with Yogurt and Fruit and an Egg, Leek and Mushroom Pasty.
There will also be new beverages for you to enjoy in Diagon Alley like:
Fishy Green Ale (it™s Fishy Green Ale, use your imagination!)
Otter™s Fizzy Orange Juice
Tongue Tying Lemon Squash
Peachtree Fizzing Tea
Wizard™s Brew (draught beer)
Dragon Scale (draught beer)
Gillywater
Pumpkin Juice
Butterbeer (of course!)
Another must-stop during your trip to Diagon Alley will be Eternelle™s Elixir of Refreshment, a cart located in Horizont Alley, where you can enjoy unique elixirs. Here™s how it works: you select from a variety of elixirs like Draught of Peace, Babbling Beverage, Elixir to Induce Euphoria and Fire Protection Potion, and then add the elixir to Gillywater. By mixing them, you™ll see your drink transform before your eyes and experience a delightful flavor surprise. Too cool!
And of course, to top it all off, you have Florean Fortescue™s Ice-Cream Parlour. You may remember Florean Fortescue™s from the first book and film œHarry Potter and the Sorcerer™s Stone when Hagrid bought Harry a chocolate and raspberry ice-cream with chopped nuts. You™ll be able to do the same with unique flavors of ice-cream like¦
Granny Smith
Earl Grey and Lavender
Chocolate Chili
Clotted Cream
Apple Crumble
Sticky Toffee Pudding
Salted Caramel Blondie
Chocolate and Raspberry
Strawberry and Peanut-Butter
Orange Marmalade
Butterbeer (that™s right, Butterbeer-flavored ice cream!)
You can read more here.