Teaser Poster for "Horns"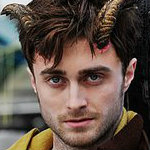 Jul 14, 2014
"Horns," which stars Daniel Radcliffe, has its first teaser poster, which you can see here:

Radcliffe plays Ig Perrish, the never-convicted prime suspect for the violent rape and murder of his girlfriend Merrin (Juno Temple). Hungover from a night of hard drinking, Ig awakens one morning to find horns growing from his head and soon realizes their power drives people to confess their sins and give in to their most selfish and unspeakable impulses – an effective tool in his quest to discover the true circumstances of his late girlfriend's tragedy and to exact revenge on her killer.
The film, which is based on Joe Hill's book of the same name, will be released on October 31st, 2014. You can read more of the article here.