"Harry Potter and the Cursed Child" to be TWO Plays!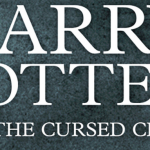 Sep 24, 2015
Just minutes ago, J.K. Rowling quietly announced, by clanging her teaspoon against her mug of tea, on twitter, that the London production of Harry Potter and the Cursed Child would be made into two plays.

The first part is simply that–the first part of the story of Cursed Child, not a prequel. Many can assume that the plays splitting into two parts will closely resemble the splitting of Deathly Hallows into two movies–the "epic nature" of the novel was too great to fit into a single films (God forbid they would have cut hunting Deathly Hallows from the Deathly Hallows movie for the more important over arching story of hunting Horcruxes).
Pottermore was able to have a few questions answered from the creators of the play:
Bafta-winning writer Jack Thorne was elated by the chance to delve deeper into the wizarding world.

'Obviously I loved it when we decided to tell this story in two parts,' Jack tells us, 'because I got to spend more time with the characters and what an honour that has been.

'It continues to be unbelievable and amazing that I've been given this extraordinary chance to bring Harry Potter to the stage. As a fan, who just devoured the books and the films, this couldn't be more exciting for me.'

John Tiffany:

I've never worked on anything quite like this before,' he says. 'Usually in theatre you're adapting existing material or creating an entirely new play. With the Cursed Child we have been given the unique opportunity to explore some of the most cherished books and beloved characters ever written, yet work with J.K. Rowling to tell a story from that world that no one yet knows – it's exhilarating.

'It shares a scale and ambition with all the Harry Potter stories so in order to do this justice we have decided to present the play in two parts.'
Harry Potter fans can register for for priority booking on the play's official website, www.harrypottertheplay.com. We are assuming that these bookings are for the first play of Harry Potter and the Cursed Child. As the site states, ticket and booking information will become available closer towards the opening of the play, as production progresses.
The discovery that the story of Cursed Child would not fit into a single play came well into production of the show, due to hit the stage next year. We are sure more news of the play is to come as production continues. Stay tuned to Leaky, the play's official website, (and Pottermore, I guess) for more news as it arrives.