Analysis of Newest "Fantastic Beast" Clip, Everything We Know so Far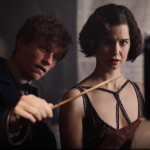 Feb 03, 2016
This last weekend, Pottermore released a new clip from behind the scenes of Fantastic Beasts and Where to Find Them at the 3rd annual Harry Potter Celebration. They also included an analysis of the video, that basically reiterated what the video showed.
However, we Potter fans know that these things reveal much much more, if one only looks close enough. The following is an analysis of the behind the scenes clip from "Fantastic Beasts" and a cumulation of everything we know so far. We actually may know a lot more than we think…
First, Let's Talk Characters
The full cast list on the Fantastic Beasts IMDB has gotten long. It includes gala dinner guests, MACUSA receptionists,  witches and wizards (uh, duh), upper class wealthy people, lower class hard working citizens, criminals, a candy store girl (?), exterminators (exciting! Are they big beasty exterminators?), executioners (scary!), factory workers, bank workers, aurors (of course), jazzy people (it is the Roaring 20's, full of wizard Gatsby parties), gangsters (New York Wizard Mob?), customs officials (immigration to the US has always been a big thing, but there was a big wave in the early 1900's), Senator Henry Shaw and a Henry Shaw Jr., and journalists (hopefully not the Rita Skeeter kind)! There are even people cast as "beasts"–we have a big foot (Sasquatch) and Edd Osmond has been cast as a Demiguise:
Casting News: Actor Edd Osmond has been cast as a Demiguise in #FantasticBeasts pic.twitter.com/FUuJofdmXD

— Fantastic Beasts Fan (@FBAWTFTmovie) January 25, 2016
Wow. All those characters make quite a story! But what do we know about the characters with names?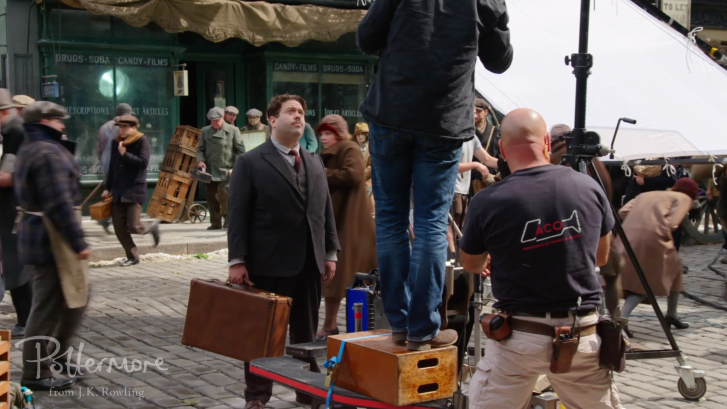 [Picture: Dan Fogler as Jacob stands in front of a drugstore/soda fountain/candy shop]
Remember Modesty? According to the WB Casting call out, we know that Modesty as,
"a haunted young girl with inner strength and stillness. She also possessed an ability to see deep into people and understand them. Modesty met Newton Scamander during his travels in New York, at which time she was between the age of eight and twelve."
Ron Perlman plays a character named Gnarlack–sounds wizard worldly.
Samantha Morton as "Mary Lou" is the leader of the "Second Salemers." EW described her character as, "The narrow-minded leader of the fanatical Second Salemers, a group looking to expose and destroy wizards and witches."
Ezra Miller plays Credence, or as EW revealed, "Perhaps the cast's most mysterious character. He's Mary Lou's troubled adopted son." One can make a lot of speculations about what that means…
We know from the Pottermore Fantastic Beasts' extras report, that Ezra Miller's character Credence meets up with Colin Farrell's character Graves in a diner. What exactly is the troubled adopted son of Mary Lou, the leader of the Second Salemers doing with a wizard? Bet you anything his step-mother wouldn't be happy. Perhaps Credence has some magic inside of him, and his parents were a witch and a wizard? If that is so, did Mary Lou know this before adopting him? Is Mary Lou like a Petunia-Vernon Dursley on steroids?
Let's take a look at Graves, "a powerful auror and the right-hand man of the American wizarding world's president," whom we now know as President Seraphina. We saw, in the first trailer, Katherine Waterston's Tina Goldstein approach, nervously and somberly, the MACUSA leader and a congress of people to make a case for Newt. This serious looking President is probably not a friend of our Newt; he is stirring up a lot of trouble in an already dangerous and tumultuous society with No-Maj relations. Graves, by default is probably not a friend of Newt's either.
Similar to the trio in Harry Potter, we know that there are four main characters. We've known this since the EW report last year, but they stressed this in the second clip. Pottermore highlighted this with a quote from David Heyman, saying, "This isn't just Newt's story; Jacob, Tina and Queenie are all at the centre of it. 'All four central characters are outsiders. Part of the journey of this, for each of them, is coming into themselves,' says David Heyman." With the EW report last year and this clip, we actually know quite a bit more about this quartet.
Jacob Kowalski (played by Dan Fogler) is just a little blue collar No-Maj, returning home from war and wanting to start a bakery….and accidentally finds himself on a magical adventure.
EW had described him as: "An optimistic No-Maj (aka Muggle) factory worker/aspiring baker who gets introduced to the wizarding world when he meets Newt. Fun fact: He's the Harry Potter franchise's first Muggle main character."
In the new clip, Dan opened up about his character Jacob, saying: 'Jacob is back from the war and now he's trying to get his life together and open up a bakery. He just happens into this very magical situation,' he says. Dan also believes that Potter fans will 'feel the nostalgia and the love they have for the movies in a whole new light.'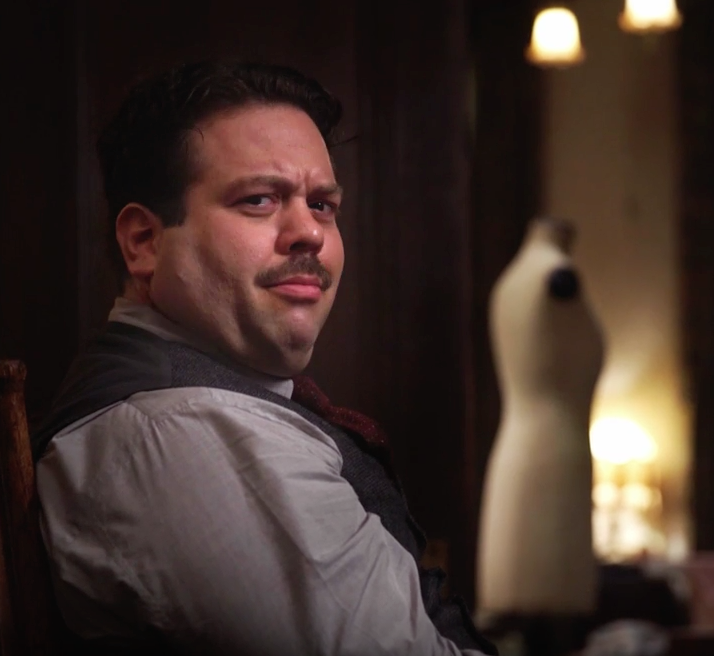 We assume that the simple bedroom that we see Eddie sitting in is Jacob's, some how the two are very good friends. Or at least Jacob is holding Eddie's case a lot…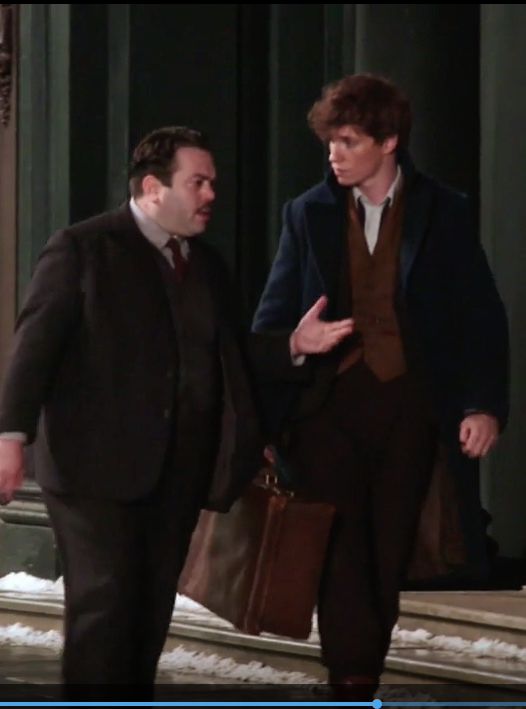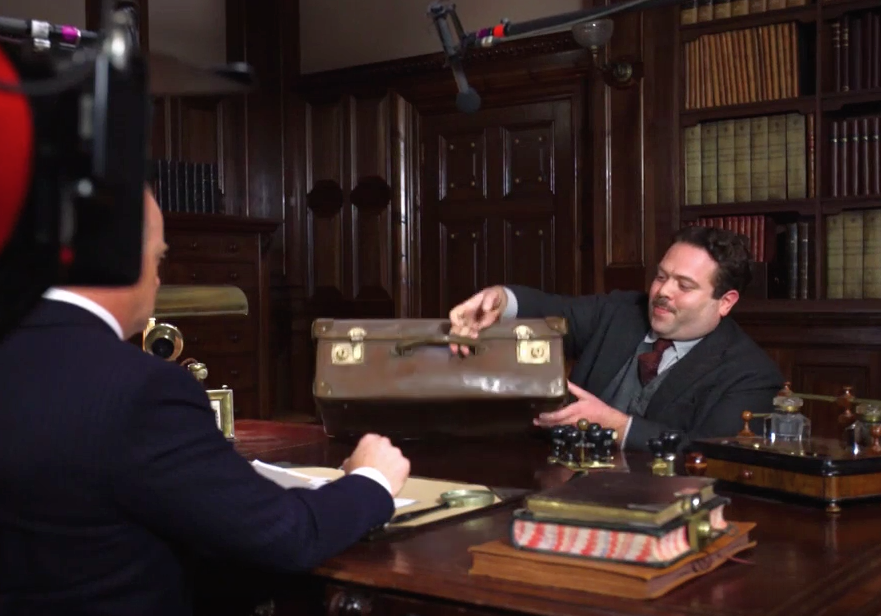 Actually, Newt hardly ever seems to have a hand on his case. No wonder some of the beasties get out!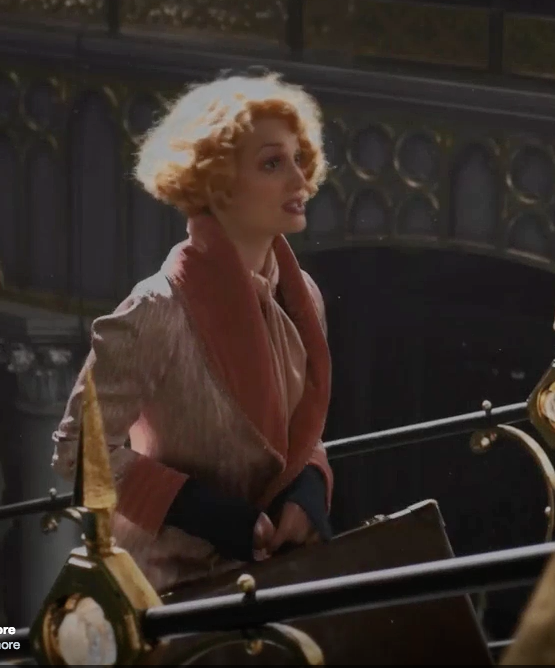 Newt needs to be more responsible with that case. He looses it a lot. He looses the contents of it…it's a good thing he's a Hufflepuff, and must be well adept at finding things.
Half of the new quartet is made up of Tina and Queenie Goldstein. Tina will eventually become Newt's wife, but until then this is what we know.
EW: Queenie is "Tina's younger sister and roommate, a big-hearted free-spirit "legilimens" who can read minds." Porpentina, or Tina, is described, "an ambitious worker at the Magical Congress of the United States of America (aka MACUSA, the U.S. version of the Ministry of Magic) who meets Newt. Tina is relegated to an office well below her abilities after she stood up for the wrong person. She longs to fight for what's right."
Alison [Queenie] also has some interesting comments about the relationship between the Goldstein sisters: 'You have two sisters, who have raised each other and have a very deep bond.' We can't be sure but this shot makes it look like Alison knows what Katherine is thinking. Which is entirely possible –  after all, she's playing a Legilimens.

Katherine says her character Tina is 'very soulful; she has a lot of heart and strengths and courage.'

Tina's career at MACUSA has stalled but she's certainly at the heart of this story. We saw some very intense moments with Tina, wand in hand and looking very serious indeed. 'The job we have to do is to make it seem natural and you kind of have to ignore your own sense of wonder watching it,' says Waterston.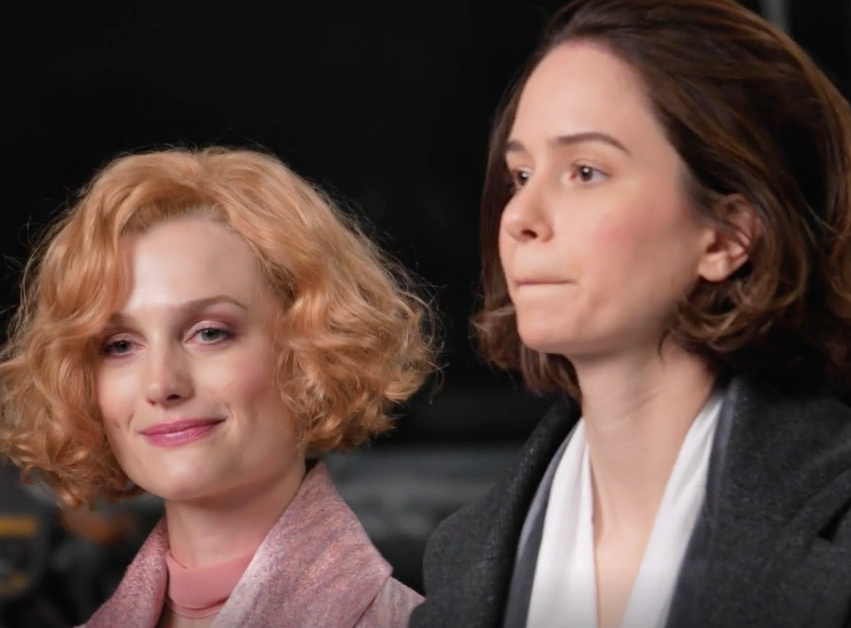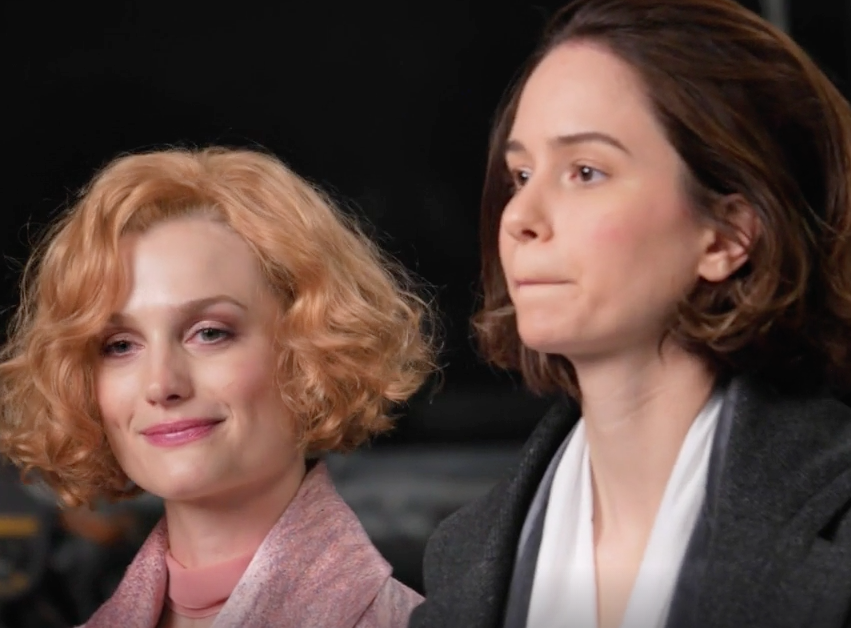 Awe how sweet…now what about Tina's future trouble maker husband, Newt Scamander? The two have a couple of wonderful moments together it seems, though with the trouble Newt causes, I doubt it was love at first sight.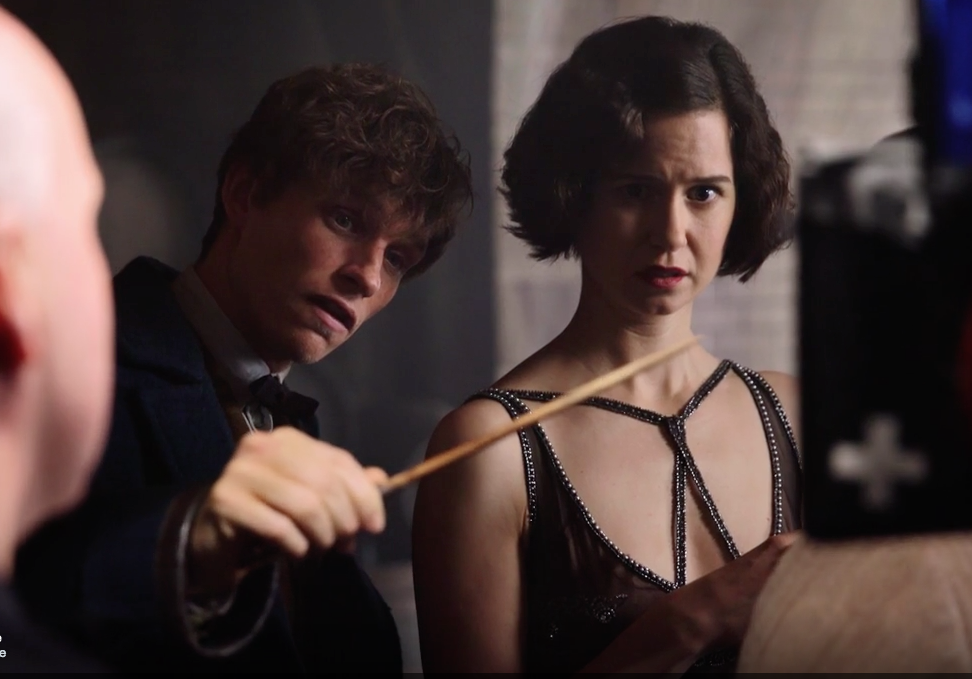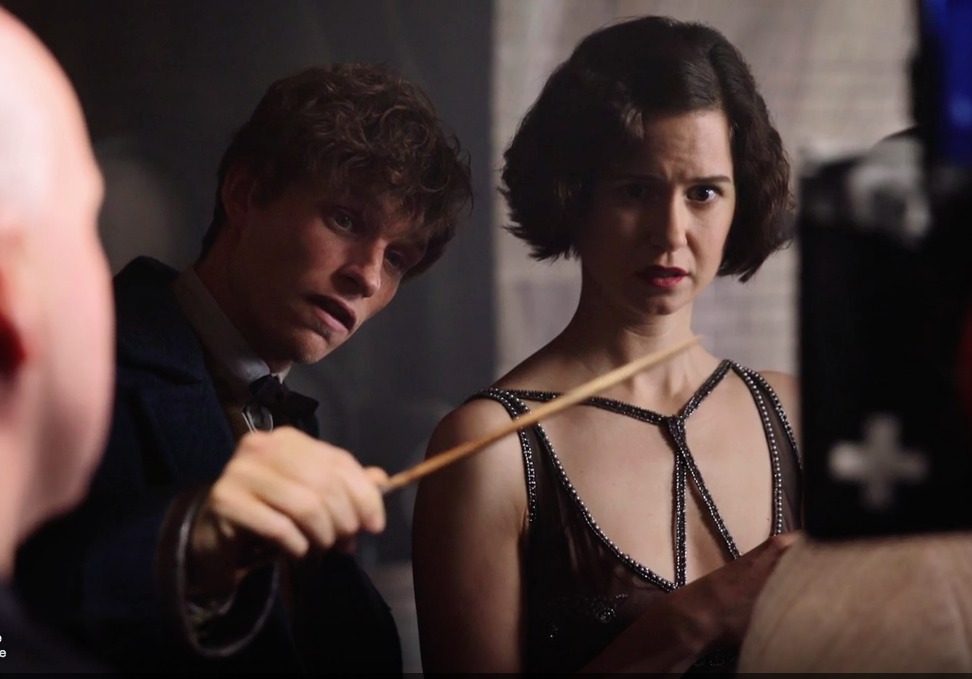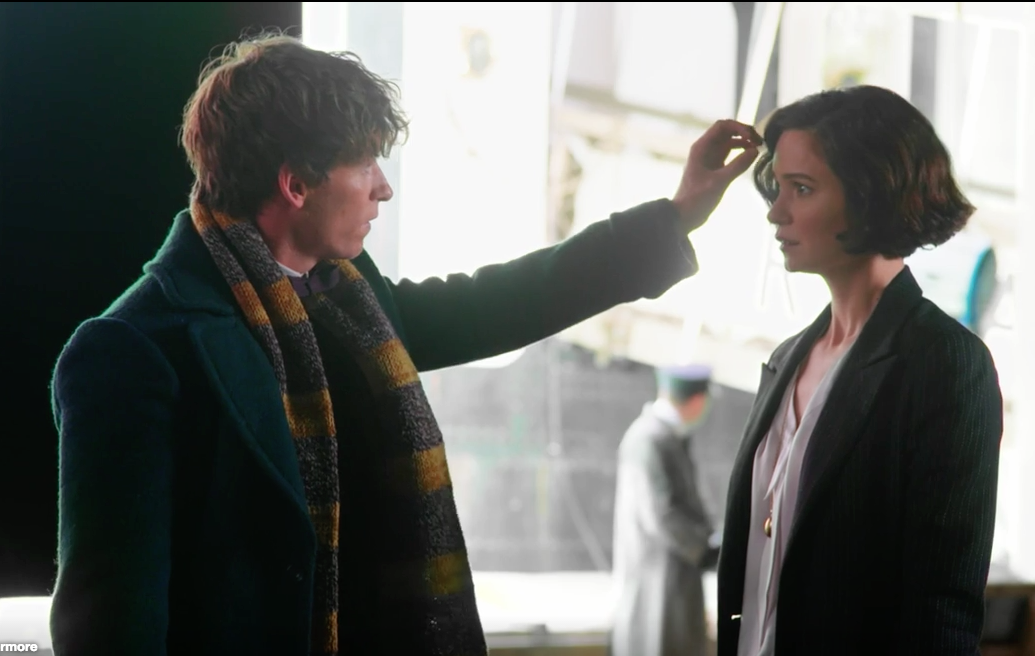 Newt is the leading man, and EW described him as, "An eccentric globe-hopping English "magizoologist" wizard who's far more comfortable around beasts and creatures than he is around other people. Comes to New York on a quest with his case full of magical habitats containing rare and endangered species."
We already know Newt doesn't keep a good eye on that magical case of his, and little beasties escape and reek havoc. As Eddie says in the new feature, "'And this one catalyst sets in motion this sort of insane amount of events that just cause chaos. And at the core of it, is this quartet.'"
Let's Talk Set
1926 New York, MACUSA…we've actually seen quite a lot of it! From the photos EW first revealed on set of Fantastic Beasts, to the behind the scenes snippet that just came out, we see lots of the streets of New York.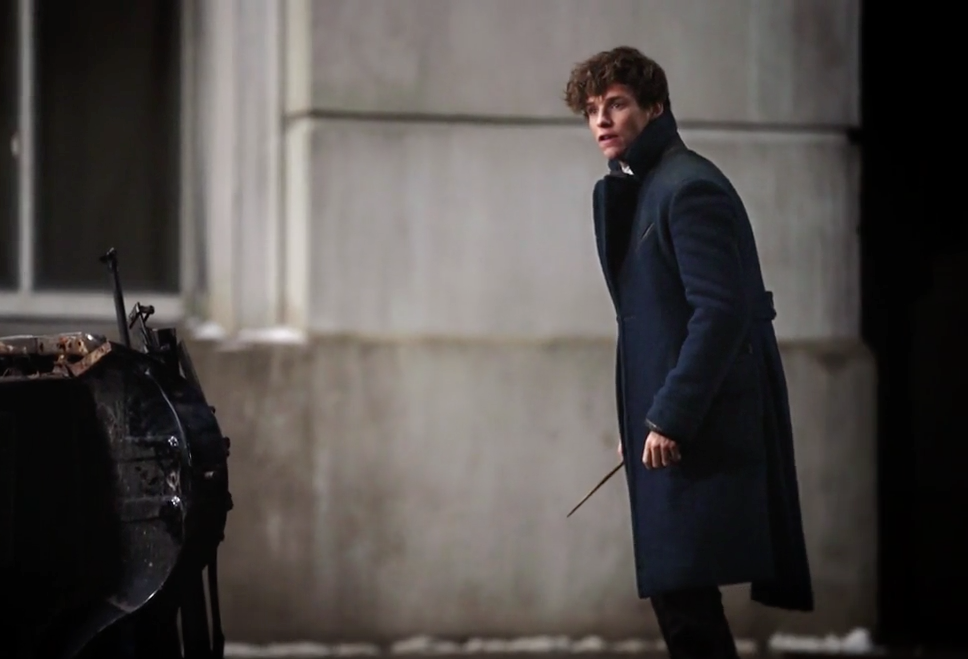 Looks like they wander into a barn at one point…perhaps to capture a beast? And then goof around and pretend to be beasts…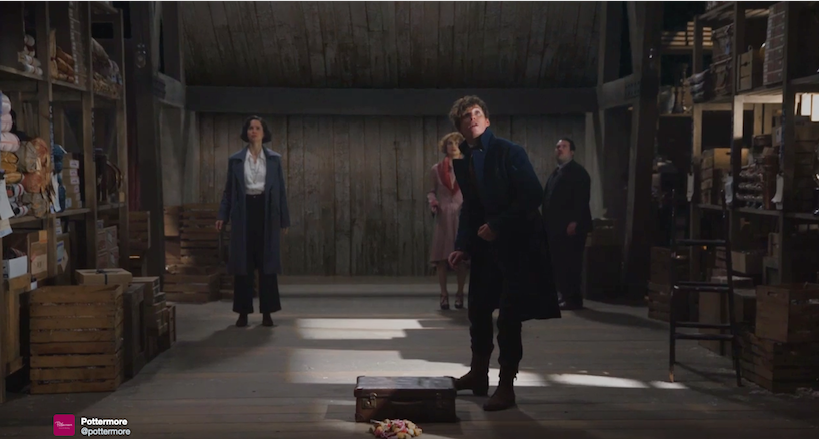 But what about MACUSA? We got our first description of MACUSA from EW upon the release of the official Fantastic Beasts movie poster:
"1. ARCHITECTURAL WIZARDRY: The Magical Congress of the United States of America is hidden from Muggle view inside the very real Woolworth Building (New York's tallest structure in 1926). Wizards enter through an ultra-fast-spinning revolving door into a grand lobby. While this Fantastic Beasts stage is a rather massive 250 feet long and 50 feet high, the ceiling will be extended with special effects to reach nearly 700 feet to represent "an empty cathedral of light, a hugely impressive, brilliantly lit space," says production designer Stuart Craig."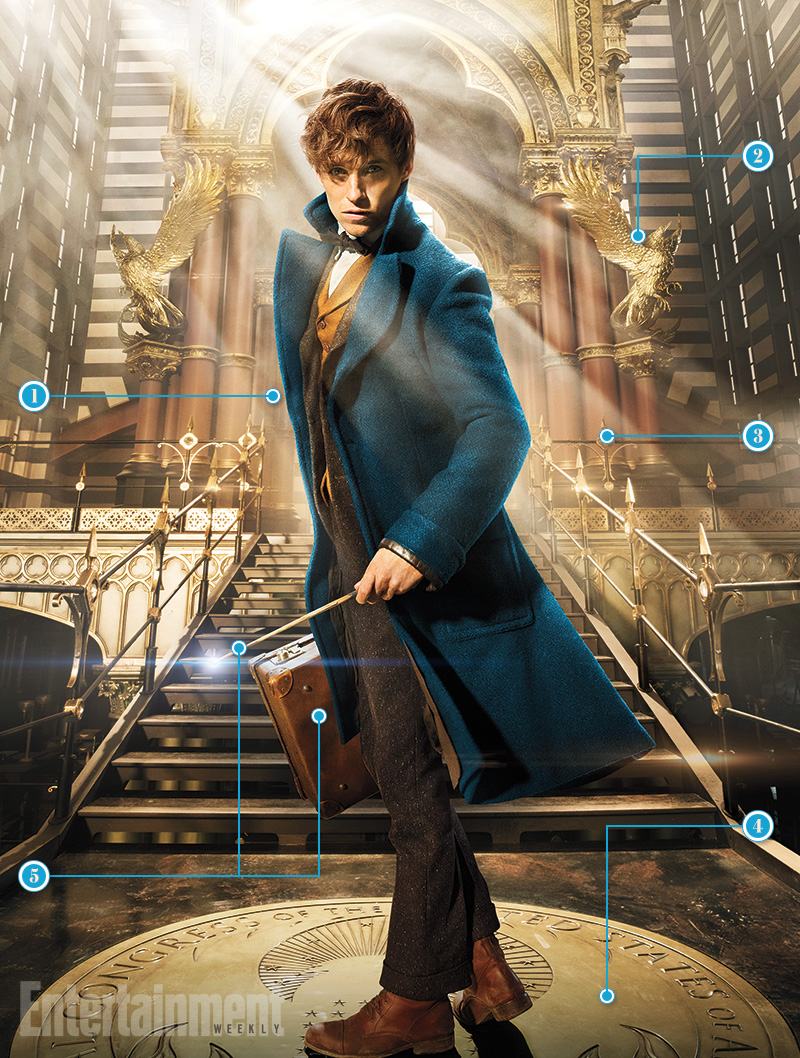 "2. THE PHOENIXES OF THE ORDER: J.K. Rowling's screenplay included these four golden phoenix statues (two unseen) that bracket the MACUSA entrance, paying homage to those who died during the Salem witch trials – a major traumatic event in the history of American wizard and No-Maj (a.k.a. Muggle) relations. Notes Craig: "Throughout, the magical world is grounded in the context of the Muggle world, born out of things familiar and real."

"3. GOLD, NOT JUST FOR SNITCHES ANY LONGER: Loosely based on the interior of the Gothic art-deco American Radiator Building in midtown Manhattan, the MACUSA design includes a heavy use of gold to "bring a richness to the decoration. Given that this is the seat of power of the government in the magic world, it's appropriate that it is gilded."

"4. MAGICAL HERALDRY: The official MACUSA emblem, based on the U.S. presidential seal, includes the etching of an American flag combined with an abstract phoenix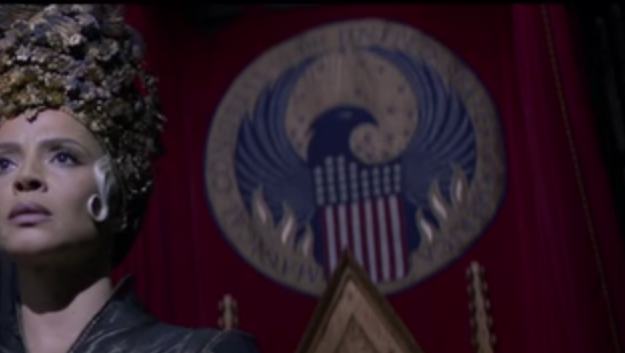 The behind the scenes trailer gave us a clearer picture of MACUSA and its phoenixes, and weird Puritan statues in the middle: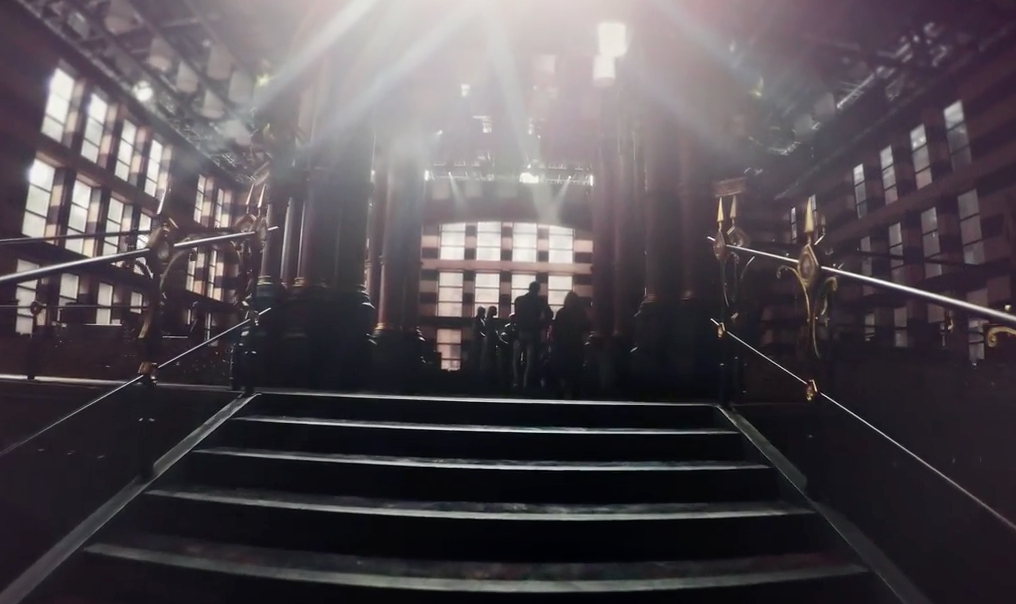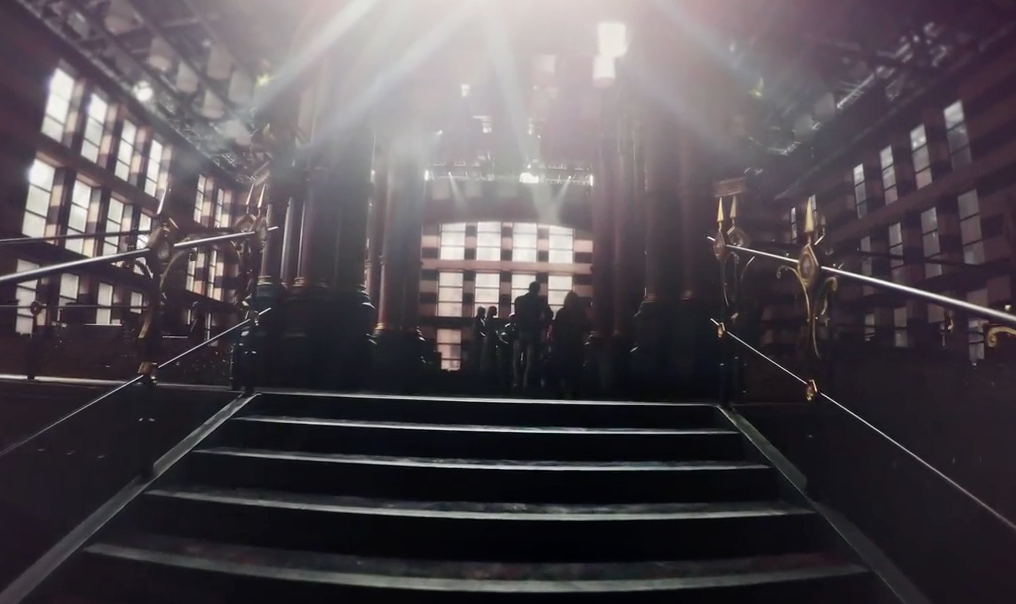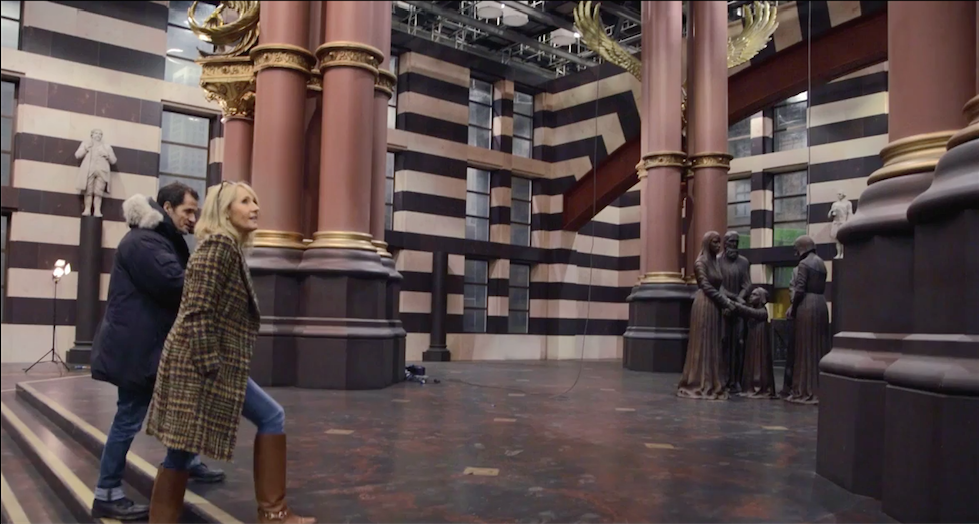 We also get another (fuzzy) glimpse at the MACUSA seal:
During the Harry Potter Celebration, Pottermore and J.K. Rowling released a lot of information about wizarding schools around the world. We know from previous J.K. Rowling tweets that the North American (USA?) Wizarding school, Ilvermorny, will be featured in the first Fantastic Beasts films. The description and detail of the other schools–Castelobruxo (Brazil),  Mahoutokoro (Japan),  Uagadou (Africa)–is amazing. One can only hope that future Fantastic Beasts films will travel around the world to these schools too. J.K. Rowling says to keep watching Pottermore for more details….
Let's Talk Wands…
Newt's wand was originally thought to be "vegan." It was "simply wood," according to EW. Why vegan? Because Newt was a zoologist who cares lot about animals, loves them and connects with them more than people, so his wand would be "vegan." However, the recent reveal that Newt's wand was made from lime wood, shell, and bone, seems to contradict that original theory. Bone definitely doesn't make it vegan.
What wands are made of is important. But wands look like is even more appealing to fans (because, of course, by this time next year we will be buying replicas of them). In the new video, we actually see many of the characters' wands up close.
Newt shows off his quite a lot throughout the two small videos we have.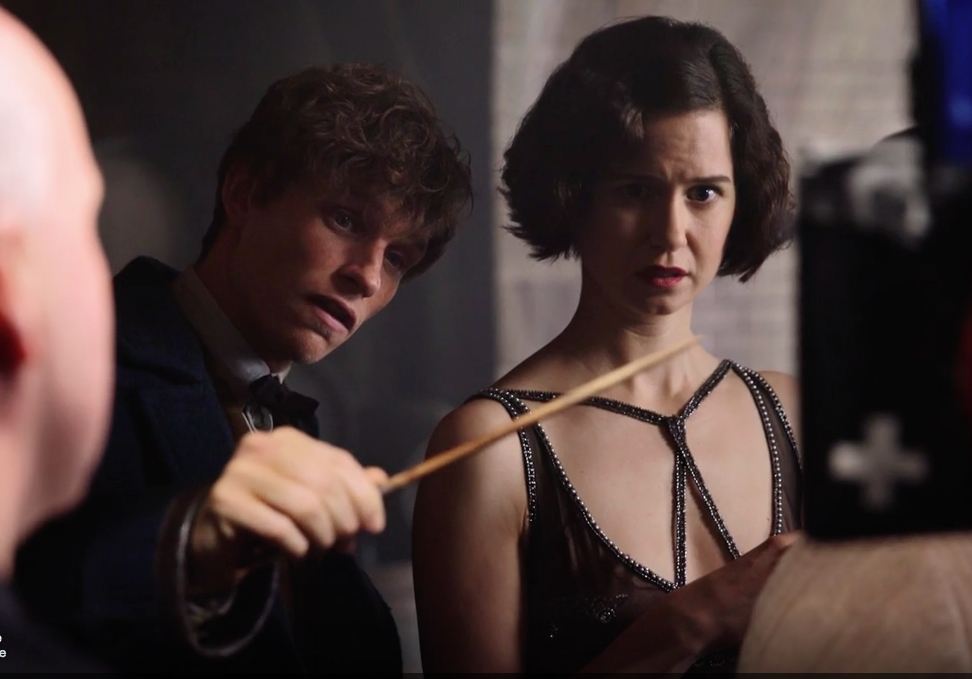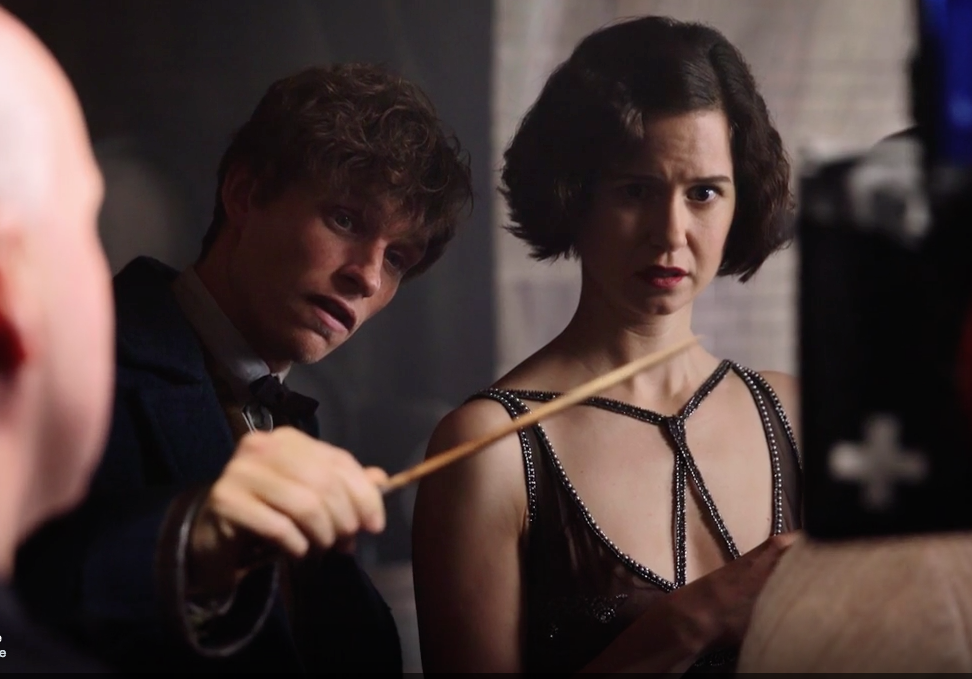 Tina becomes more brave about using her wand, and even does magic in front of a No-Maj! Don't worry, it's just Jacob…a wounded Jacob.
Queenie's and Graves' wands have a little flare to them. They each have shiny handles, though we are sure specifics about those will come later:
Let's Talk Beasts…
The troublemakers. We actually haven't seen any of the "fantastic" beasts yet. There have been a couple beast castings (see above) and EW did release a small list of beasts we can expect to see. Those beasts include a Niffler, Ashwinder, Lethifold, Augurey, Bowtruckle, Crup and Merepeople. Descriptions of all of these creatures can be found in book, Fantastic Beasts and Where to Find Them. It would be really bad if an Ashwinder got into that barn the quartet is in…Other than that, we have a beastie Fantastic Beasts logo, and that is about it.
I think that pretty much sums up all that we are allowed to know of Fantastic Beasts and Where to Find Them so far. The two videos we have so far can be seen below. Enjoy! We will update you with more news when we can!