Noma Dumezweni on Playing Hermione in Cursed Child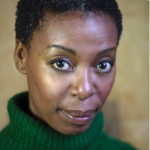 Feb 28, 2016
Noma Dumezweni was given the opportunity and responsibility of portraying one of the greatest literary role models on stage, playing Hermione Granger in Harry Potter and the Cursed Child. Noma is a well-gifted actor very equipped to do the job, though she has already faced some adversity because of her casting. With the support of the Harry Potter family, Noma has discussed how she will play Hermione,  speaking of her role to the Evening Standard last month.
In a new interview with the Guardian, Noma opened up about playing a character "we all aspire to be." Hermione is near and dear to many readers hearts, and thousands of girls around the world have put themselves in her character's shoes, seen themselves as Hermione Granger. Because of this, the role comes with a lot of pressure and responsibility, in addition to other reasons why the public eye will be watching. However, Noma couldn't be more excited to play Hermione, a character she fell in love with while reading the books, telling the Guardian:
"The point is that I, Noma Dumezweni, am busting with pleasure that I'm going to be playing her."

"Her" is Hermione Granger, bucktoothed and muggle-born. "I loved her when I read the books – and I'm an old reader, not one of the 13-year-olds who's grown into their twenties. I didn't grow up with these three from childhood, but I remember meeting them and going: 'These guys are great.' She's great. She's great, she's great, she's great."
Explaining why so many girls look up to the character of Hermione, Noma said:
"She's Hermione, isn't she? She rocks. She's the one who grounds them. She's the one who says: 'You can do better. You've got to own up to yourself.' I've got to be careful how I say this, but we all aspire to be Hermione. She's struggled, but she holds it all together."
Very true and very accurate. Harry and Ron would have been lost without her, and hardly anyone can argue otherwise. The discussion then turned to the controversy Noma's casting caused, and how she handled the situation:
"I didn't realise the emotional effect," Dumezweni says. "Not on me, but on other people. That's why I talk about it as a privilege and a responsibility." She's talking both as an actor aware of setting a precedent, and as a Potterphile. "The reason those books are so powerful is because you find your own archetype within them. I've spoken too much already," she says.
To those of us wondering, still nervous and doubting, about seeing the Harry Potter story come to life in a different medium–on stage, rather than another novel or movie–Noma attempts to qualm any unease with one simply excited answer to a simple question:
Will it be a good thing for theatre? "Oh my god, yes."
From the mouth of an insider, who has seen the play come to life, and who knows what is going on behind the scenes this very minute. One has to admit, that is a little comforting.
The article goes on to talk of Noma's success in past plays, as well as her current (and highly claimed) production of I See You, now playing at the Royal Court, London until March 26. The rest of the article may be read here. Harry Potter and the Cursed Child opens at the Palace Theater, in July.