New robes for 'Cursed Child' Hogwarts Students!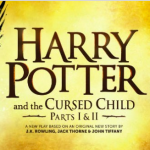 May 07, 2016
Katrina Lindsay – costume designer for Harry Potter and the Cursed Child – released a photo of some early sketch designs for new Hogwarts robes in the play via Twitter, and they sure look fancy!
Compared to the relatively simple designs in the films, these robes seem much more intricate – take a look below and let us know what you think!
"Early sketch for the new Hogwarts black robes" – Katrina Lindsay, costume designer #CursedChild #HarryPotterPlay pic.twitter.com/9h88wm4ufQ

— Harry Potter Play (@HPPlayLDN) May 5, 2016