Theater Round-Up: Drama Desk Award Wins, 'Cursed Child' Interviews and More!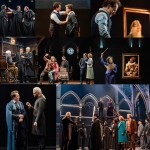 Jun 04, 2018
The Cursed Child production takes center stage in this week's theater round-up yet again as we congratulate the Drama Desk Award winners and cover interviews with cast and crew, including Noma Dumezweni (Hermione Granger), Jamie Parker (Harry Potter), Anthony Boyle (Scorpius Malfoy), Sam Clemmett (Albus Potter), costume designer Katrina Lindsay and set designer Christine Jones. And in a moving appearance, Theo Ancient (Albus Potter) participated in the one-year anniversary commemorative service for the London Bridge terror attack victims.
Drama Desk Award Winners
The Drama Desk Award winners have been announced, and Sonia Friedman Productions garnered wins through both Harry Potter and the Cursed Child and the musical Mean Girls. Broadway.com posted the winners for all categories here–read on for details about Harry Potter-related wins!
John Tiffany
John Tiffany wins the Drama Desk for Outstanding Director of a Play! https://t.co/VFd59LOg3o

— BroadwayWorld (@BroadwayWorld) June 4, 2018
John Tiffany, renowned director of Harry Potter and the Cursed Child, came away with the win for Outstanding Director of a Play! He's done an incredible job bringing the continued story of Harry Potter to the stage, employing all the stagecraft at his disposal to perfection and playing to the fans' willingness to be spellbound by the return to the wizarding world. In the process, he creates pure magic for audiences, telling Cursed Child NYC, "So much of my approach is about imagination as opposed to letting technology and spectacle do the job for us."
Hear more about bringing Cursed Child to the stage below.
"With suggestion you provide the catalyst for the imagination." Director John Tiffany on bringing #CursedChildNYC to the stage. pic.twitter.com/IUYE23OGvT

— Cursed Child NYC (@HPPlayNYC) June 1, 2018
Imogen Heap
Imogen Heap wins the Drama Desk Award for Outstanding Music in a Play! https://t.co/VFd59LOg3o

— BroadwayWorld (@BroadwayWorld) June 4, 2018
Imogen Heap took home the win for Outstanding Music in a Play! The Harry Potter adaptations have always featured moving, whimsical, powerful pieces of music, charged with underscoring moments of levity as well heights of conflict, all while making the magic come alive. Heap is in good company with this win, and we're pleased it holds its own among the best of Broadway!
Neil Austin
Neil Austin wins the Drama Desk Award for Outstanding Lighting Design in a Play! https://t.co/VFd59LOg3o

— BroadwayWorld (@BroadwayWorld) June 4, 2018
Neil Austin snags the win for Outstanding Lighting Design in a Play! While director John Tiffany may downplay a heavy reliance on spectacle, he would no doubt confirm it's place as invaluable in producing the atmosphere which gives imagination a place to thrive. As he said, "With suggestion you provide the catalyst"–and lighting is essential to creating that mood. Congratulations, Neil Austin!
Finn Ross and Ash J. Woodward
Finn Ross and Ash J. Woodward win the Drama Desk Award for Outstanding Projection Design! https://t.co/VFd59LOg3o

— BroadwayWorld (@BroadwayWorld) June 4, 2018
Finn Ross and Ash J. Woodward were awarded the win for Outstanding Projection Design! As with lighting, the projections, when used to best effect, create an environment which gives the audience over to the suspension of disbelief. With all the time traveling and spells flying, we imagine the projections must be dazzling!
Gareth Fry
Gareth Fry wins the Drama Desk Award for Outstanding Sound Design in a Play! https://t.co/VFd59LOg3o

— BroadwayWorld (@BroadwayWorld) June 4, 2018
Gareth Fry picked up the win for Outstanding Sound Design in a Play! His mastery of sound design is well established and all the more impressive since many of the sounds he's created for the wizarding world have no real-world reference or context. He told the New York Times:
"If you're doing a show set in the real world, you can visit sound-effect libraries or go out into the world and record things, but with this, we had to create everything from scratch," Mr. Fry said. "What does a spell sound like? How does that sound vary according to the person who is casting it and the person it is having an effect on? We've got a lot of spells, and each has a slightly different personality according to what they do."
Head to the full New York Times article for samples of Fry's sound wizardry!
"What does a spell sound like? How does that sound vary according to the person who is casting it and the person it is having an effect on?" The great @garethfrysound – who makes the impossible sound possible. https://t.co/8lqgABfYg7

— Jack Thorne (@jackthorne) May 29, 2018
Tina Fey, Mean Girls
Tina Fey wins the Drama Desk Award for Outstanding Book of a Musical! https://t.co/VFd59LOg3o

— BroadwayWorld (@BroadwayWorld) June 4, 2018
Congratulations to Tina Fey for winning the award for Outstanding Book of a Musical! Sonia Friedman Productions' streak of success continues!
Noma Dumezweni and Jamie Parker on CBS This Morning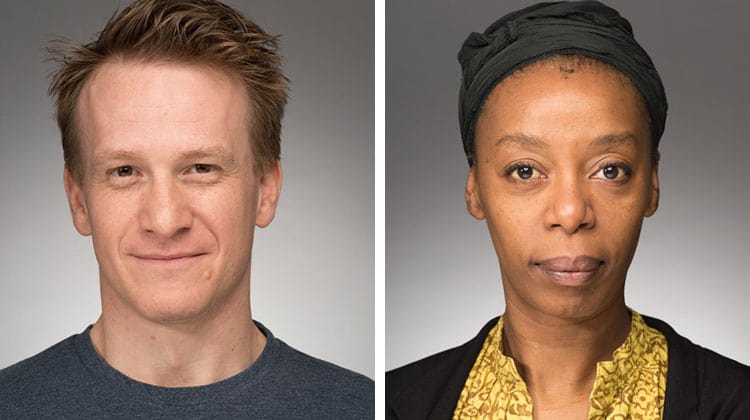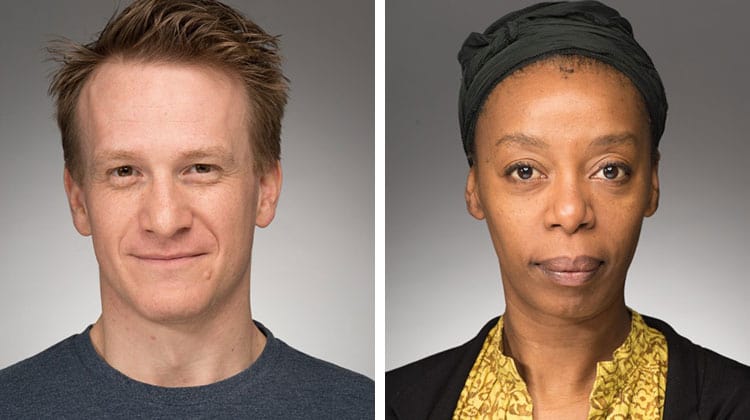 Noma Dumezweni and Jamie Parker, two of the Tony-nominated actors from the outrageously-successful Broadway production of Harry Potter and the Cursed Child, appeared on CBS This Morning last week to discuss their characters and the secrets kept by audience after enchanted audience.
The interview opens with a montage of recorded clips, giving the uninitiated fan a fantastic glimpse of the magical production, before diving into the question that sets up everything: Where is Harry when the story begins? Parker answered thoughtfully:
"Well, like you said, we pick up from the end of the books, so they're parents now. We're all parents; we're packing our kids off to Hogwarts, and it's sort of a next generation of adventures. But if the books are about coming of age and coming into your own as a person, then the next thing is about how to become a parent when no one's ever really taught you how."
Dumezweni was also invited to comment on her initial casting for the role of Hermione Granger, which was originated by Emma Watson in the film adaptations. She observed:
"My joy is–and it's the only way I could get to explain it–is when John Tiffany and Sonia Friedman said, 'We'd love you to do this part,' I was like, 'That's amazing because I've had the most extraordinary time in the workshops,' and the group of actors I got to meet…but it's a joyous thing. I love the work that I do. I'm a woman of color, and I got the job, and that's the biggest privilege I could have." 
Read more from Playbill here, and watch the full interview below, including their discussion of the "keeping the secrets" phenomenon.
Jamie Parker Discusses Harry Potter and Unwinding Afterwards
Jamie Parker also sat down with the New York Times to discuss Harry Potter and how he unwinds after an intense two-part day. Surprisingly, he turns to an old hobby taken up in his mid-twenties–archery. He notes, "You spend half an hour doing this and you get to a very empty-headed place." This really shouldn't be surprising, however, since we've also seen his remarkable talent with the piano, not to mention the wand!
That Parker needs the solace of that empty-headed place now and then is understandable. Harry Potter has always been a complicated character, and he certainly endured more than his share of hardships and loss, traumas that would unravel even the most well-adjusted. As an adult, Harry may face different challenges and responsibilities but, in many ways, Parker thinks Harry is no better prepared to handle them, and Parker has to personify those inner battles every time he takes the stage.
Echoing his comments to CBS, Parker reflected on the specific difficulty Harry faces in parenting, saying:
" 'If no one has ever taught you to be a dad, and all you've ever known is how to be a fighter and anyone you've ever loved has left you by dying horrendously or has nearly died horrendously,' happy can be elusive…'You don't have to have a history of horrendous abuse to know that you've had your own brushes with loss and isolation and your own form of despair and you can chase that and amplify it.' "
As the New York Time theater critic Ben Brantley said, Parker "embodies Potter pain beautifully," and those who have had the chance to see the play know why he won the Olivier award for his performance, and now boasts a Tony nomination as well.
On this particular day, he dealt with the pressures that come with being a part of Cursed Child as well as he could, and though he tried three bows before finding his groove, he did find it in the end, and his arrow met the target. We have no doubt his portrayal will continue to be equally spot on for as long as he dons those iconic round glasses and one lightning-shaped scar.
Read the full New York Time interview here.
First-Time Tony Nominees Parker and Boyle Talk Other Firsts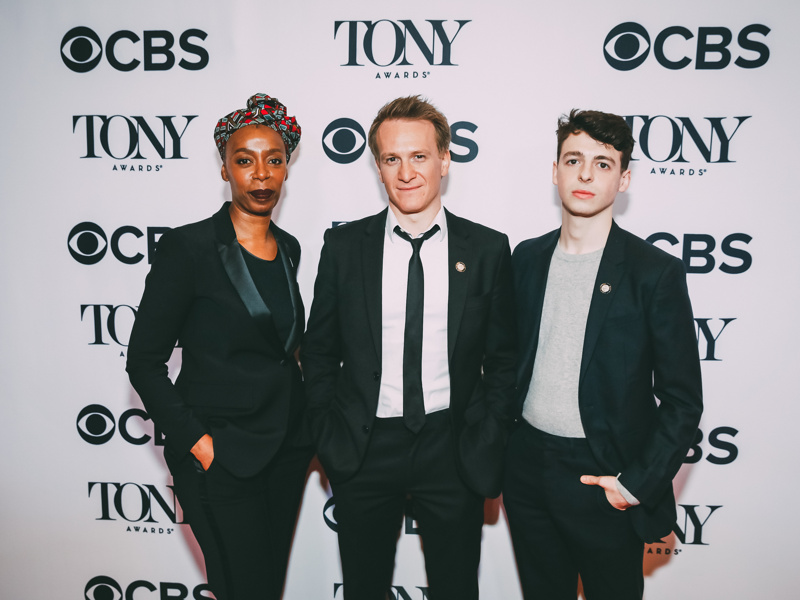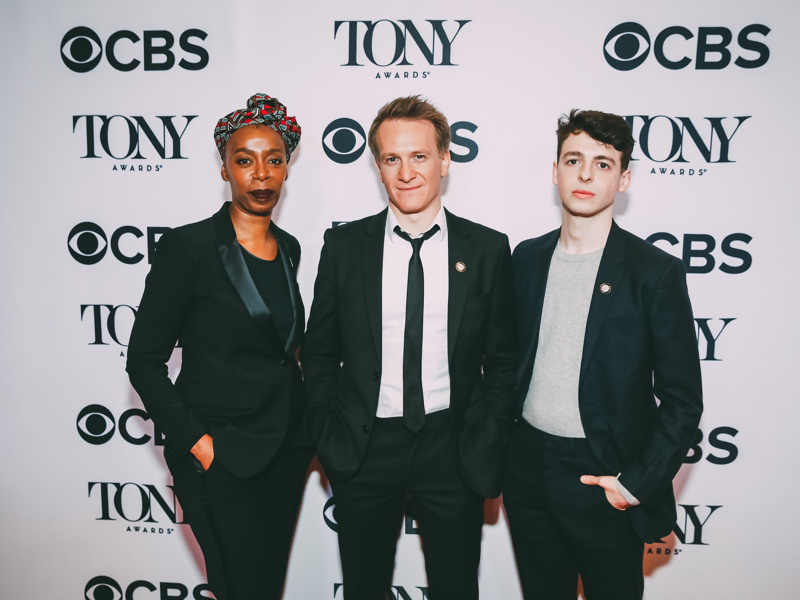 In the lead-up to the Tony Awards, Theater Mania surveyed the first-time nominees, which included Cursed Child's Jamie Parker and Anthony Boyle, regarding other major firsts they've experienced.
Jamie Parker, nominated for Best Performance by an Actor in a Leading Role in a Play, divulged the following:
First Job: After the Dance by Terence Rattigan. I played Peter. Regional UK tour. Easily the most heavy-drinking company I've ever been in before or since.

First New York City Apartment: A walk-up brownstone on West 75th. Russell Tovey and James Corden were in the same building. As were lots of cockroaches.

First Theatrical Experience: I think it was Darlington Operatic Society's production of The Music Man sometime in the early 1980s. My dad was Mayor Shinn, and my sister Emma was in the marching band.

First Role You Played Onstage: The Virgin Mary in the nativity play at school. Two years running. I was about 6 or 7, I think.

First Award You Remember Winning: Scottish Schools bugling champion, 1993. Need someone to reveille you the hell out of bed? I'm your man.
Anthony Boyle, nominated for Best Performance by an Actor in a Featured Role in a Play, followed suit with some interesting firsts:
First Job: My first job was working in a nightclub in Belfast when I was 16. My older brother got me a job collecting glasses at the club, and I got fired after my third shift because I was drinking vodka and Red Bull and dancing with people. My ma wasn't best pleased.

First New York City Apartment: My first New York apartment is the one I live in now! This is my first time living in NYC.

First Theatrical Experience: I can't remember my very first theatrical experience (I think I was too young), but I do remember doing a play at 16 years old and being in a proper rehearsal room for the first time. Everyone brought in pieces of art that reminded them of the play we were doing, and we sat in a circle on the floor, people played music from their phones and read poems, and I thought "I never want to leave this room." I still feel like that.

First Role You Played Onstage: I left drama school early to play Scorpius in Harry Potter in the West End, so this is the first proper onstage role I've ever had a crack at.

First Award You Remember Winning: The first award I won was the Critics Circle Award for Best Newcomer in London last year (for Harry Potter). One of our producers rang me, and I thought I was in trouble, but they were telling me about the award. Then they told me about all of these amazing actors I look up to who had won in previous years, like Eddie Redmayne, Daniel Kaluuya, Chiwetel Ejiofor, Andrew Garfield, etc., and I couldn't believe it. I remember being ridiculously nervous giving the speech, even though it was only in front of about 30 people.
Read the complete list of responses from other Tony first-timers here.
Anthony Boyle on Cursed Child, his Hogwarts House and Stars in the Alley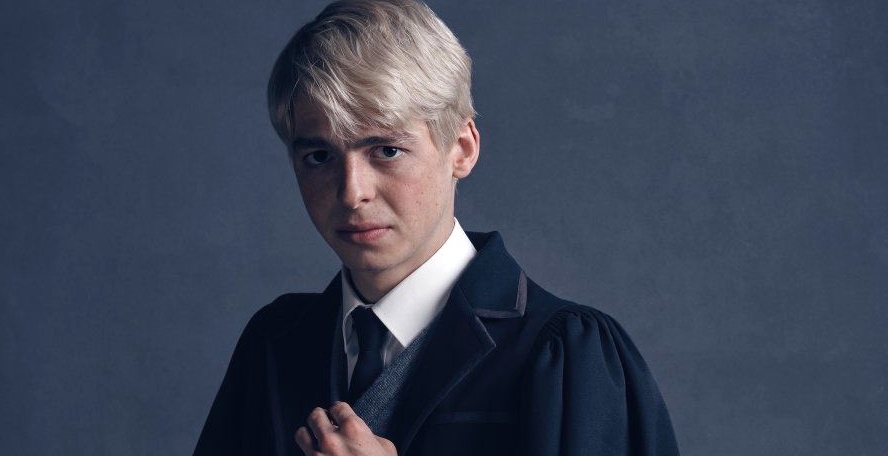 Jamie Parker isn't the only one who's felt his share of the pressure upon bringing this extension of J.K. Rowling's epic wizarding saga to the stage, but Anthony Boyle told Broadway.com that John Tiffany, Sonia Friedman and Colin Callender have done an excellent job of shielding the actors as much as possible, at least in the early days, so that their performances could be authentically developed. Boyle explained:
"Having the pressure of it being Harry Potter was something that I never really felt because the producers and the director really kept us away from the media while we were creating it…It just felt like we were in this rehearsal room working on a new play, and we could be experimental. I think that if I would have had that sort of weight going, 'Oh God, I'm playing a Malfoy, and this is the new story,' then I could have been a bit nervous. But we were always just kept very free in the room, so it just felt like a normal play."
That was an impressive feat, given that the Harry Potter series is a global phenomenon which has impacted children and adults all over the world–Boyle being no exception. He has early memories of favorites parts, just like any other fan, and recalled:
"My first memory of the Harry Potter books is my dad sitting on the landing and reading them to my brother and I before we went to bed. I can always really distinctly remember this one chapter called 'Cat, Rat, Dog' [in which Scabbers is revealed to be Peter Pettigrew]…I remember being a kid and it freaked my nut out! I was like, 'Oh my days! What do you mean?' I just thought it was really magical."
And though Boyle professes to be different from his Cursed Child character, Scorpius Malfoy, in many essential ways, they are alike in one major respect that will undoubtedly delight the fans. He revealed:
"The Hogwarts house I'm in is Slytherin. That is Pottermore official. Hot off the press. Breaking news."
Read the full Broadway.com interview, including details on Boyle's big break, his Olivier win and "Keeping the Secrets," here.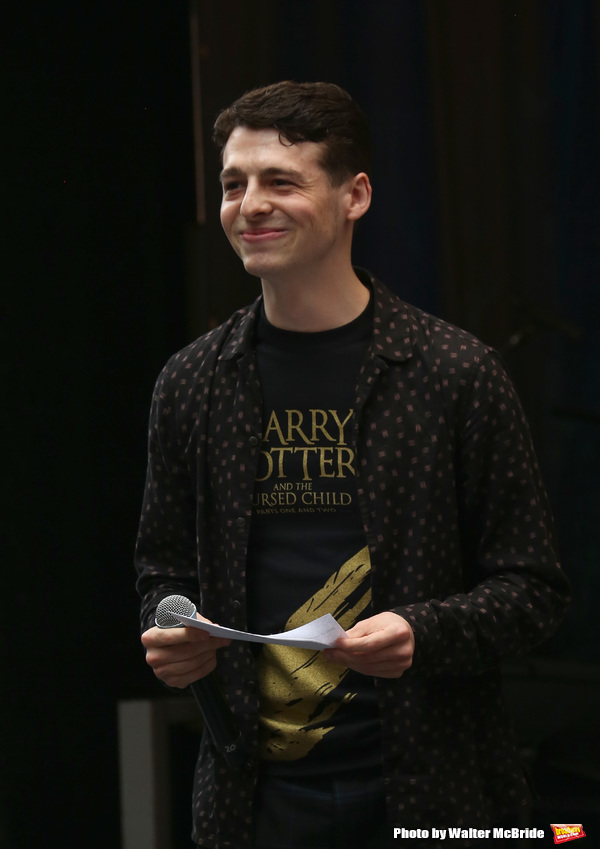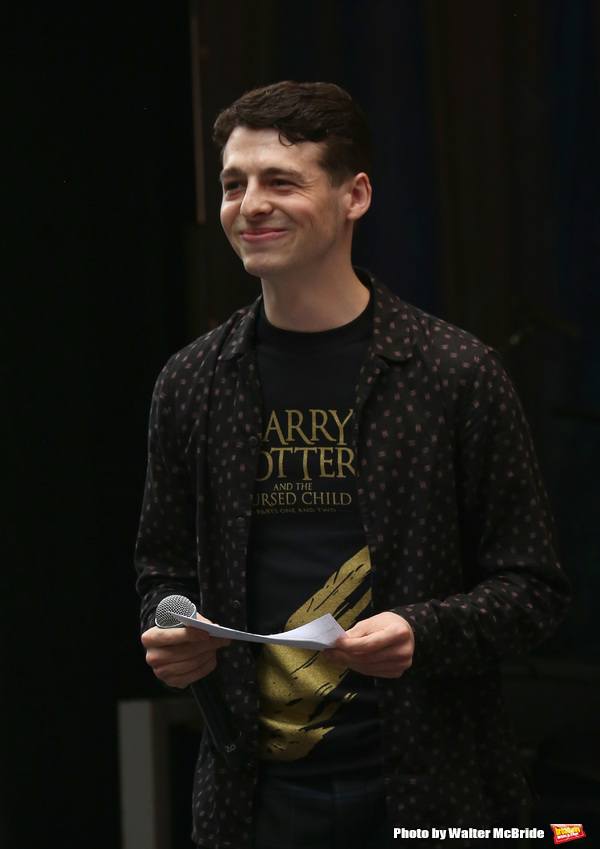 Boyle also recently appeared at the free outdoor concert Stars in the Alley, which celebrates the close of the Broadway season in advance of the upcoming Tony Awards. As previously covered by Leaky, the event was attended by many talented performers, including cast members from Sonia Friedman's musical Mean Girls.
View Broadway.com's photo gallery here.
Sam Clemmett Talks Bringing Cursed Child to Broadway
Find out what @sam_clemmett's favorite Harry Potter book and themed snack are (and other #CursedChildNYC-related things) in @TylerGMount's latest @playbill vlog: https://t.co/XtDTY6zL4P#KeepTheSecrets

— Lyric Theatre (@lyricbroadway) May 30, 2018
Sam Clemmett, who plays Albus Potter, son of the famous Harry Potter and best friend to Anthony Boyle's Scorpius Malfoy, in Harry Potter and the Cursed Child, was the featured guest on an episode of Playbill's The Tyler Mount Vlog.
Clemmett hilariously feigned ignorance to a number of spoiler-y questions before diving into the interview segment, which began with a discussion of what it's like to star in a production based on the iconic Harry Potter story. Clemmett answered:
"Insane. Word's can't–I can't really put into words what it means. I mean, I remember getting the job and being told I got the part and suddenly realized what I was entering into, and this massive, massive literary franchise with these amazing characters, and all of a sudden I've got to introduce a new character to these stories, and there's a lot of pressure. But it has been the most fun I've ever had–ever."
What the full episode below for more of Sam Clemmett on Cursed Child's transfer to Broadway.
Katrina Lindsay Discusses Cursed Child Costume Design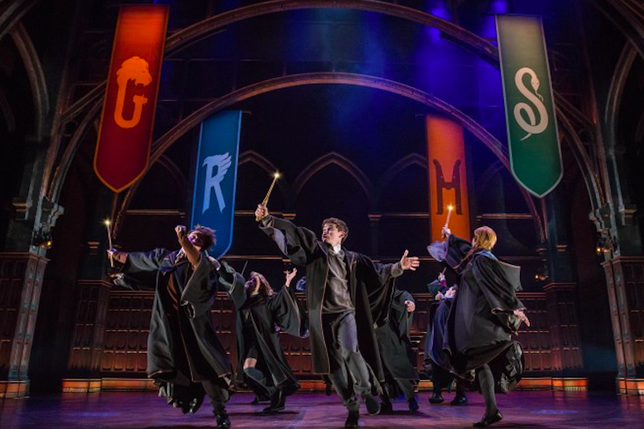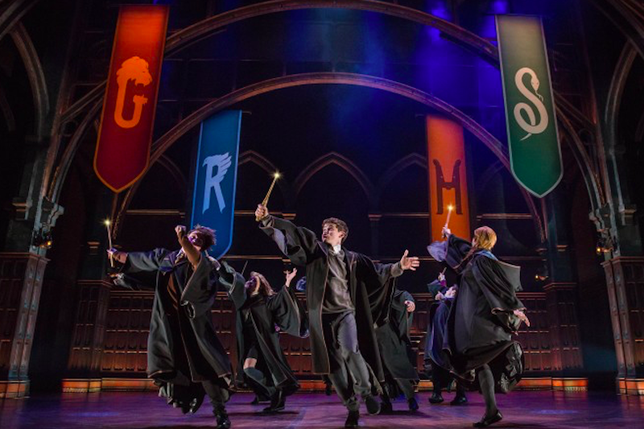 Though Katrina Lindsay did not pick up the Drama Desk Award for Costume Design, nothing can diminish the honor of being nominated, as well as the fact that she has won an Olivier for her contributions to Harry Potter and the Cursed Child and is also still in the running to nab a Tony Award. Take one look at images from the magical production and it's clear why she's been recognized across the critical spectrum–she's an amazingly talented designer whose costumes perfectly enhance the telling of the story.
In a recent interview with Backstage, she discussed her approach to designing for the hit show. She explained that her primary job is to dress the actors in such a way that the costume contributes to the performance rather than "over-clutter" or distract from it. As to how this specifically achieved in Cursed Child, which also required the costumes to move in a way that enhanced the illusion and aided the choreography, she commented:
"It became very clear at the beginning that the cloaks and the movement of them would be a really useful tool in terms of the transitions between the scenes and the fluidity that we wanted in the storytelling, as well as in terms of creating the illusions and how people appear and disappear. Then it was working very closely with Jamie [Harrison], who did all the illusions. The beauty of "Cursed Child" is there are areas where we all pick up different things from our different disciplines and lead with them, and we mapped it out quite organically through the process. [We think], This is going to be a moment where the story is going to be carried forward through the movement and costume. Or certain things will be done just through the costume changing or illusions or a piece of the magic. It was about the collaboration of all of that, and understanding at what point the costume might lead in certain areas and when it had to be a sort of vessel for somebody else's area."
In addition to designing costumes that work well with the choreography of the production, Lindsay revealed that she's also committed to collaborating with the actors in order to make sure their sense of the character is served by the direction she's taken, noting:
"The director and I will have conversations about the world and the emotional themes and the characters, and then I will do a set of drawings and kind of get my thoughts down on paper. But I really like having a conversation with the actors, as well, and making sure that we're both listening to where each other is coming from…. Then there is a whole process of fittings. I feel like in that process, it's very important to hear the actor and understand how they feel physically in something. [Collaborating with actors] is a bit of a balance. If it feels like it's going completely off-key, I have to find a way of turning it around a little bit. But they're the ones who are going to be onstage telling the story, so there's no point in making something that doesn't feel right for them."
Read Katrina Lindsay's full interview with Backstage here.
Christine Jones Talks Cursed Child Set Design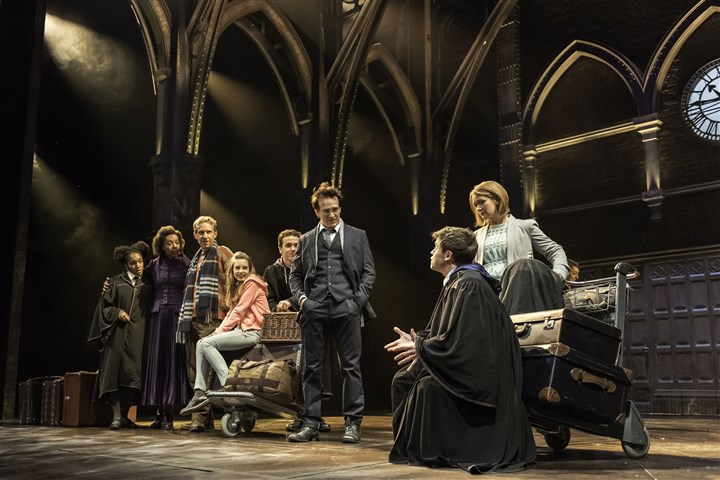 Christine Jones is also up for a Tony Award for her work on Harry Potter and the Cursed Child. As with all the other aspects of the production, the set design must be both noticeable and unobtrusive, brought forward as another player in the story when necessary and fading into the background when performance must take the forefront. It is a delicate balance, which Jones has perfected with Cursed Child, and she discussed her approach in a recent interview with Backstage as well.
Regarding her inspiration for the Cursed Child set design, she echoed John Tiffany's emphasis on creating a place that would assist the audience's imagination, saying:
"When you look at the books, J.K. Rowling doesn't often describe what things look like, but she often describes what a space feels like. She imbues her books with so many emotional qualities that those become the source of inspiration. We realized we had an opportunity to use what theater has to offer, which is mainly the audience's imagination, and use a different vocabulary to evoke the magical world. We went back to our theater roots and figured out how we can use the imagination and create all of these different moments."
And like costume designer Katrina Lindsay, Jones was also very aware of how the set would interact with and affect the actors. She explained:
"Well, the other thing that was unique about this project was that, because I was in rehearsal every day, I actually did the warmup with the actors every day. I really felt like I was part of the company in a way that I don't always get to be. So I got to know the actors intimately. For example, I created wands for all of the characters. I was able to sit in rehearsal and draw each person's wand while I watched them and listened to them, so I was able to be truly inspired by their presence and their energy. And that is what I set out to do: create a space that has potential and possibility."
Read Christine Jones' full interview with Backstage here.
Theo Ancient Participates in Service Remembering Victims of London Bridge Attack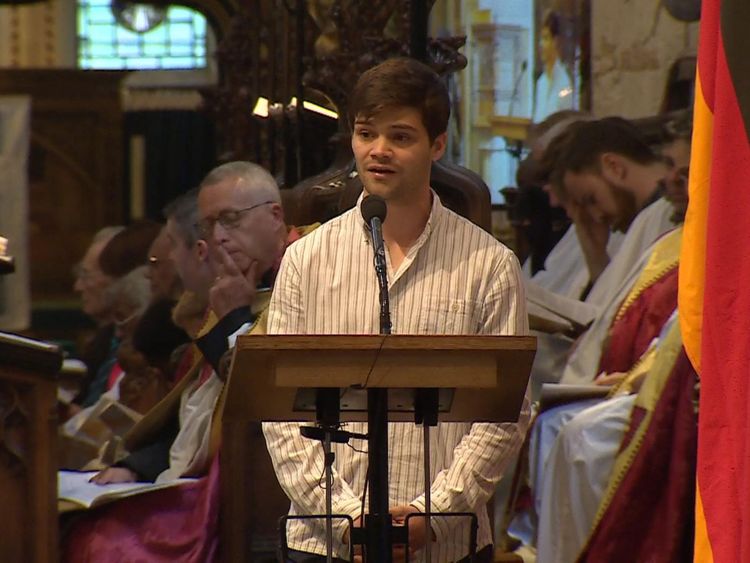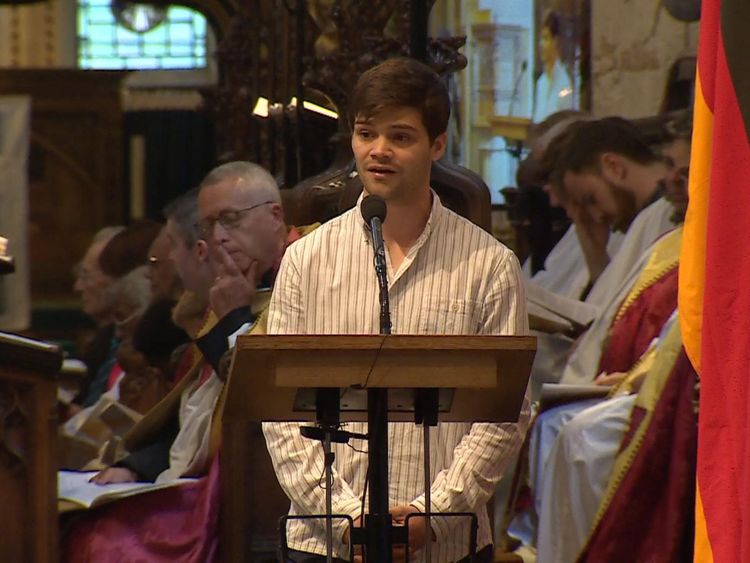 Theo Ancient, who portrayed Albus Potter in the second West End cast of Harry Potter and the Cursed Child, is also a survivor of last year's terrorist attack on the London Bridge. On Sunday, the one-year anniversary of the tragedy, he attended a service at the Southwark Cathedral in order to remember those lost.
An honour to be involved in the service this afternoon and Grand Iftar this evening, it's been a profoundly moving and truly special day, my love and best wishes to you all #londonunitedhttps://t.co/woVS4fe7dt

— Theo Ancient (@Theo_Ancient) June 3, 2018
Ancient was among those chosen to speak at the commemorative service and told those gathered:
"At ten in the evening, darkness falls in the worst possible way.
"In a few minutes, everything changes, though it will be hours before we'll know the true cost."
While Ancient spoke to the solemnness of the occasion, others reminded attendees of their resilience, determined to be strong and united in the aftermath. Prime Minister Theresa May said of the anniversary, "Our resolve to stand firm and overcome this threat together has never been stronger."
Read more on BBCs coverage here.