'Cursed Child' Actors Prep for Tony Awards!
Jun 10, 2018
Heading into tonight's Tony Awards–for which Harry Potter and the Cursed Child has an astounding 10 nominations!–anticipation could not be higher. The lead-up to the culminating ceremony of the Broadway season has included scores of luncheons, promotional events and interviews, and this week is no exception.
In addition to breaking down the Tony predictions, we've heard more from Anthony Boyle (Scorpius Malfoy), Noma Dumezweni (Hermione Granger), set designer Christine Jones and choreographer Steven Hoggett.
Read on for more from these talented individuals as they discuss the Cursed Child production and their roles in it.
Tony Predictions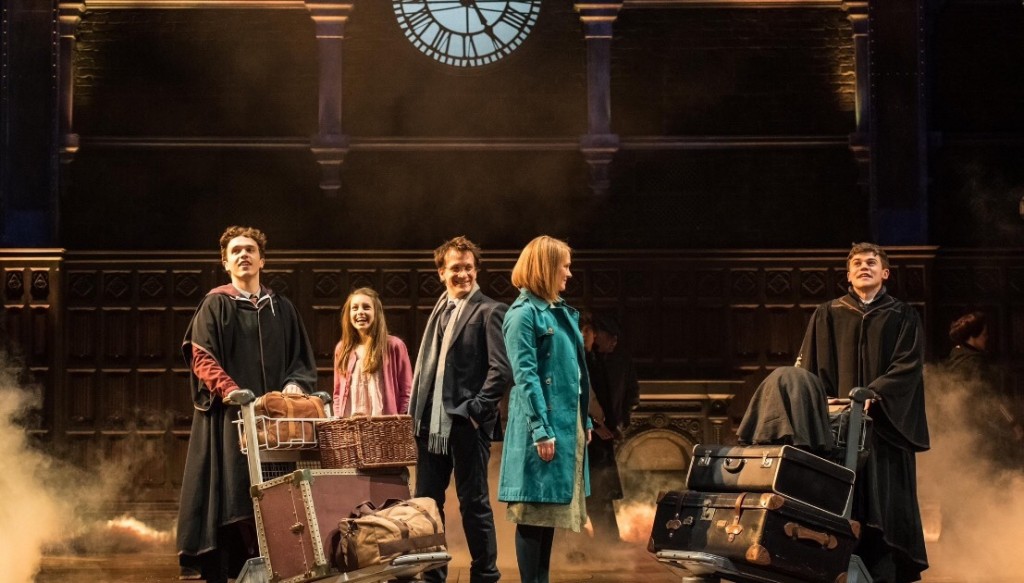 The Tony Awards are the most prestigious awards on Broadway, and for weeks leading up to the ceremony tonight critics and theater fans have been speculating over the winners. Among those making predictions, Variety earmarked Harry Potter and the Cursed Child as one of the big winners, specifically, in the Best Play category, saying:
"You don't have to take a Divination class at Hogwart's to know that 'Harry Potter and the Cursed Child' will score the new play prize on Sunday. It's a massive transatlantic hit that's bringing new, young audiences to Broadway — and the epic, two-part production is also a dazzling and artfully-conceived swirl of theatrical magic. None of its departed competitors — limited-run productions 'Farinelli and the King,' 'The Children' and 'Junk' — sent the same kind of shockwaves through audiences and critics alike. Chances are, 'Cursed Child' will top the headlines Monday morning as the winner of the most awards of the night, after nabbing all the evening's play-design trophies."
In addition to predicted Best Play and Design Category wins, Variety also tapped John Tiffany as most likely to win for Direction of a Play. As for the acting categories, Variety proposed that Cursed Child nominees Anthony Boyle (Scorpius Malfoy) and Noma Dumezweni (Hermione Granger) are wild cards but, considering their success at the Olivier Awards, it may not be as far-fetched a possibility as the term suggests.
Read all of Variety's Tony Predictions here.
Anthony Boyle Talks Cursed Child and Tony Nom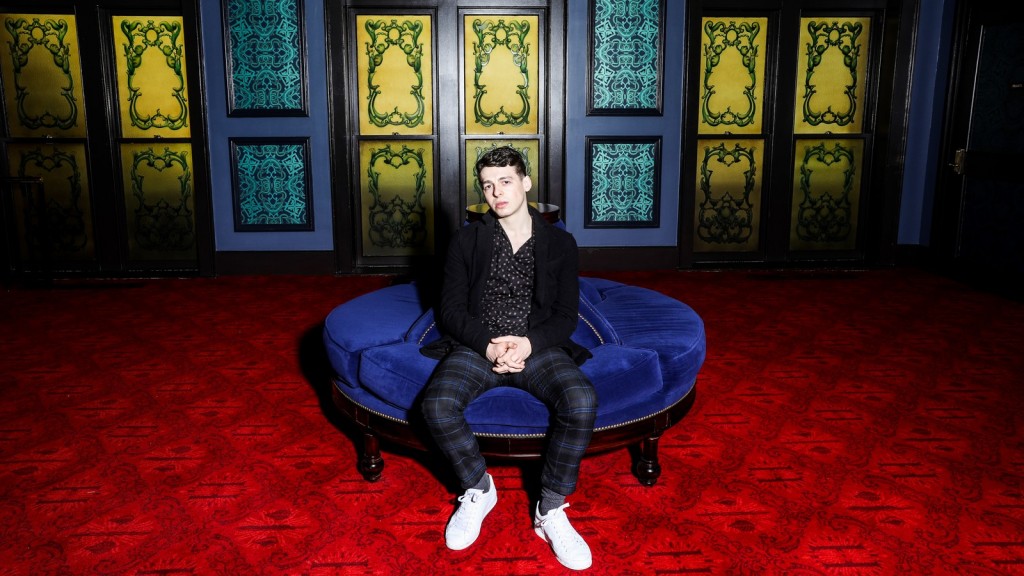 Anthony Boyle is nominated as Best Featured Actor in a Play, a fact that still seems to surprise the Olivier-winning actor. He told Deadline:
"I was doing a press thing for the Tonys recently, looking in to the lens of the camera , saying, 'Hi, I'm Anthony Boyle and you're watching CBS,' and next to me Denzel Washington is doing the same thing. And I was like, What is my life?? This is mad. But then you have to go [drops voice to nonchalant tone], 'Oh, hello fellow nominee.' You have to just, like, adopt that. But I rang my brother that night and said, Me and Denzel are best mates!"
Finding success on Broadway, let alone in position to give interviews related to a Tony nomination, shows how far he's come since drama school and his, perhaps, unlikely casting. Now, thinking back on when he first got the coveted part, Boyle said:
"I was put up for various things in London, one of which was Harry Potter and the Cursed Child. My agent called and said, 'Pack your bags, you're going to London.' Thinking back on it, it's crazy. I'm rehearsing Harry Potter and [my friends] are back at drama school. I'm like, Oh man, I hope I'm good."
I hope I'm good. Indeed.
According to MTV.com, though Boyle had an immediate connection to Scorpius upon first reading the script, he went to great lengths to better understand how to portray the character, reading "books on grief and isolation, drawing inspiration from elite British boarding schools like Eton College where 'it's every man for himself,' " and studying YouTube videos of purebred dogs, reasoning that the Malfoy's pure wizarding bloodline would result in some idiosyncratic characteristics, including Scorpius' wheezy, nasal response to anxiety. He explained:
"I got obsessed with this idea of dogs being purebred, and then having health problems…You know when you breed pugs so much that they begin to breathe weird? I thought that if you're only having sex with the same wizarding gene pool, you're all gonna end up being a bit off."
In fact, he's embodied the character into every aspect of his physicality, to the point that he revealed to GQ it's affected his posture, and "he's started going to physical therapy to undo what the role, which he's been playing since 2016, has done to his body."
Circling back to the upcoming Tony Awards, he told GQ:
"I like that we've got nominated for best play. I like that you can differentiate other actors from actors…I don't think that art should be a competition, but it's really lovely that so many of our team have been nominated."
And speaking of his co-stars, Boyle would be the first to acknowledge that his on-stage chemistry with Sam Clemmett, who plays best friend Albus Potter, contributes greatly to the quality of his performance. In his interview with MTV.com, he observed:
"I was so lucky to be blessed with a cast mate like Sam [Clemmett] because we genuinely are best pals…Sometimes in these plays and these big projects when there's two leading men, especially, they can try and outdo one another. And I feel like we've never had that and we've always had a really good connection and working relationship, and it just works."
In an interview with ABC News, Clemmett echoed:
"We've become very, very, very close friends. We pretty much hit it off from the get-go…We had each other to support and help each other through this really, really long, huge process which was creating this beast."
Still, with everything they had going for them, Boyle was unsure prior to that first magical step onstage. He revealed to ABC:
"It's weird, I always thought that the play was amazing from reading it. I thought this is like the most beautifully crafted play written by Jack (Thorne) and John (Tiffany) and J.K. Rowling…It was about three seconds before I went (on) and I thought, 'oh my God, this is dreadful. This play is going to bomb. I am going to be awful in it.'"
As we all know, it didn't–and he wasn't. The young man who joked about "acting his socks off" in the New York Times Instagram feature below has truly knocked it out of the park, to use another turn of phrase, and whether he wins the Tony for his performance or not, Boyle has truly cast a spell over Broadway.
Watch both Boyle and Clemmett discuss their characters and their "pre-show rituals" further below.
Meet Anthony Boyle and @sam_clemmett of @HPPlayNYC. The stars of the hit Harry Potter play talk about how they got the roles, meeting @jk_rowling and their pre-show rituals. #PopcornABC#CursedChild

WATCH: https://t.co/yEJEkKxeMs LISTEN: https://t.co/ZVJnIK4bG6pic.twitter.com/KxGieuQlPd — Popcorn on ABC (@PopcornABCNews) June 6, 2018
Noma Dumezweni Talks Cursed Child and Tony Nom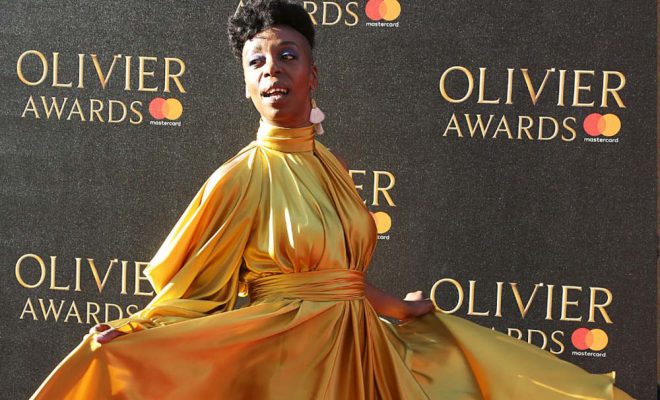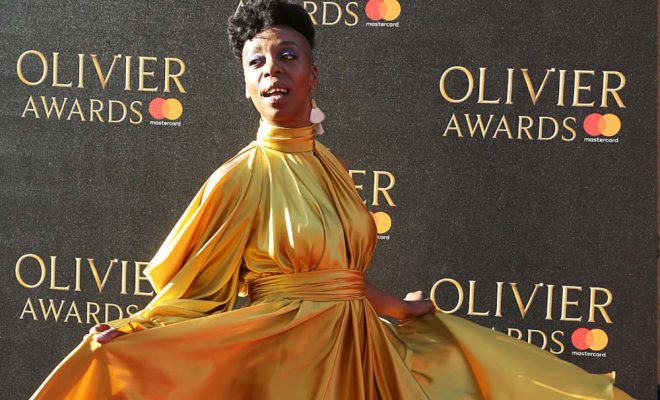 The Olivier-winning actress Noma Dumezweni is nominated for the Tony Award in the Best Featured Actress in a Play category, and she recently spoke to Deadline about the surreal experience–and how it differs from awards season in the West End. She observed:
"In London, you get an Olivier nomination and you turn up for the day. But this thing with the Tonys, doing these interviews and lunches, you start to get to know a Broadway community. It's an extraordinary thing. You start getting to know the different people and the productions because you get to have lunch with them, you get to have a light supper with them, and it's a beautiful thing."
As to how her casting as Hermione Granger has been received by audiences, Dumezweni noted:
"My responsibility is ultimately to the character and to the play. I happen to have the joyful luck of being asked to play this part, Hermione, so with how I look, there's already going to be a statement there. And that statement means very many different things to different people. "For those first 5 minutes, the audience can go, Oh, okay, yeah. But then the play takes us on the journey, and this is why I am here, and what I love. So when young kids say, Thank you for being my Hermione, I am very, very proud of that. It's beautiful, that's what it is."
And that, Potter fans, is why Dumezweni remains in the running, even as a wild card. Not because of how she looks, mind you, but because of how she's captured the character of Hermione so completely, making her at once recognizable and also startlingly new. Her performance truly does take the audience along for the journey, and we're excited to see her honored among so many other incredible talents!
Read the full Deadline interview here.
Christine Jones on Cursed Child Set Design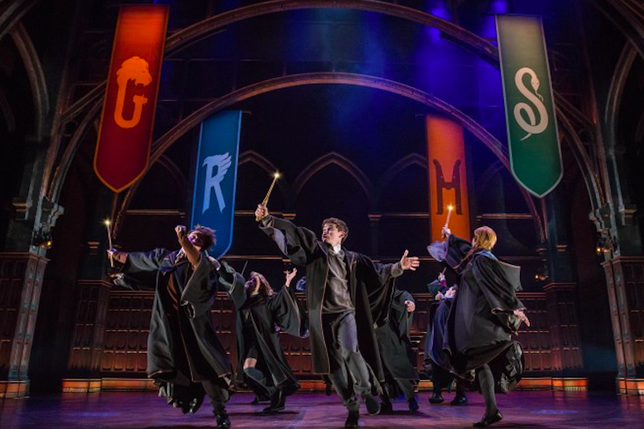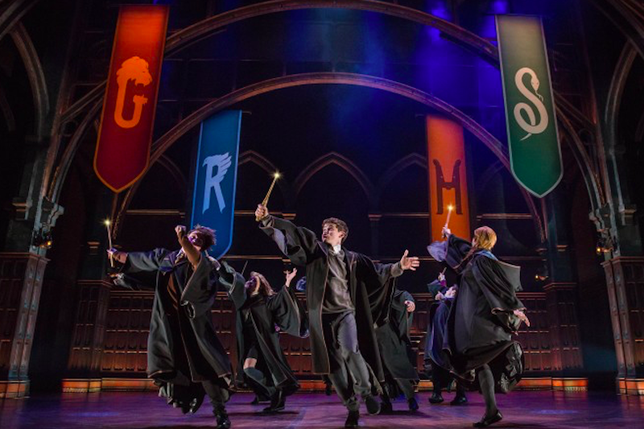 Broadway shows have to have something special about them in order to succeed, and there's no denying that while the actors literally and figuratively take center stage in bringing that to fruition, the other elements of the production must be equally remarkable. Whether it's about the spectacle or simply creating the appropriate atmosphere, getting the set design right is essential, and so it is an incredible honor for Cursed Child's Christine Jones to be counted among the Tony nominees.
Jones spoke to LiveDesign about her approach and, more than that, her understanding of and commitment to recreating the magic of the beloved original series. She said:
"We were aware that we were being entrusted with a beloved cannon of stories and characters and that there was a responsibility we had to the fans and the people who love this material dearly and would be extremely invested in how these stories were told."
Building on director John Tiffany's previous comment, "With suggestion you provide the catalyst for imagination," and Jones' own commentary on the same idea, covered last week by Leaky, Jones went on to tell LiveDesign:
"'My idea was to engage the audience's imagination to give them enough visual cues that would help them journey to wherever location we need to be at,' says the set designer, who wanted the audience to be able to use their imagination to finish the painting. 'The forest is I would say evocative of a forest, but certainly leaves a lot of room to imprint forest on it through your own emotional and imaginative means.'"
She continued:
"Shakespeare said we are in a forest, and then we believe that we're in a forest. If a character tells us we're on the top of the train, we're on the top of the train. And then there is enough happening visually with the smoke and the lights and the scenic elements to make you believe, yes, we absolutely are on the top of the train, and we bring the audience along with us."
Truthfully, it takes commendable talent to take a concept so straightforward and, though by no means simple to execute, appear so on stage in order to fully engage the audience in the "suspension of disbelief" so that the magic of the play, and of the wizarding world specifically, is as powerful and real as it is intended to be.
View the full Live Design slideshow, including set designer Christine Jones' comments, here.
Steven Hoggett on Cursed Child Choreography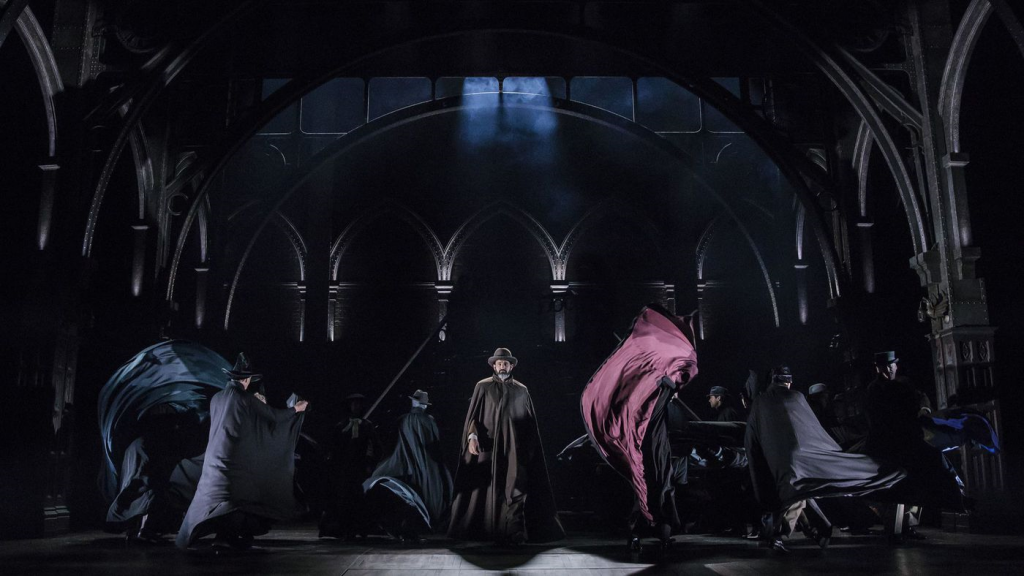 The LA Times noted that if choreographer Steven Hoggett takes home the Tony win, he will become the first to be awarded for work on a play in over 25 years. In a category traditionally won by a musical, Hoggett's competition is fierce, but his choreography speaks for itself–he deserves to be represented among them. As with the set design and costuming, the approach is surprisingly simple yet dramatically effective, and Hoggett revealed part of the secret to his success in his LA Times interview:
"[Hoggett] says the cloaks, designed by Katrina Lindsay, gave him the first clue. 'It was only then I had confidence the show could move in a smooth trajectory without blackouts or stops or starts…I love when a company are the gears and mechanisms of the show. That's how you become a true ensemble, connected to each other and to the audience.' "
Hoggett revealed he also considered the idea of ritual and how to communicate certain moods and impressions, such as the physical intimidation experienced in the court of Voldemort. So though he admitted he originally approached the production "with abject fear and a large notebook full of blank pages," it seems inspiration came in the end, and the results are magical.
Read the full LA Times coverage here.
Broadway World's Theater Fans Choice Awards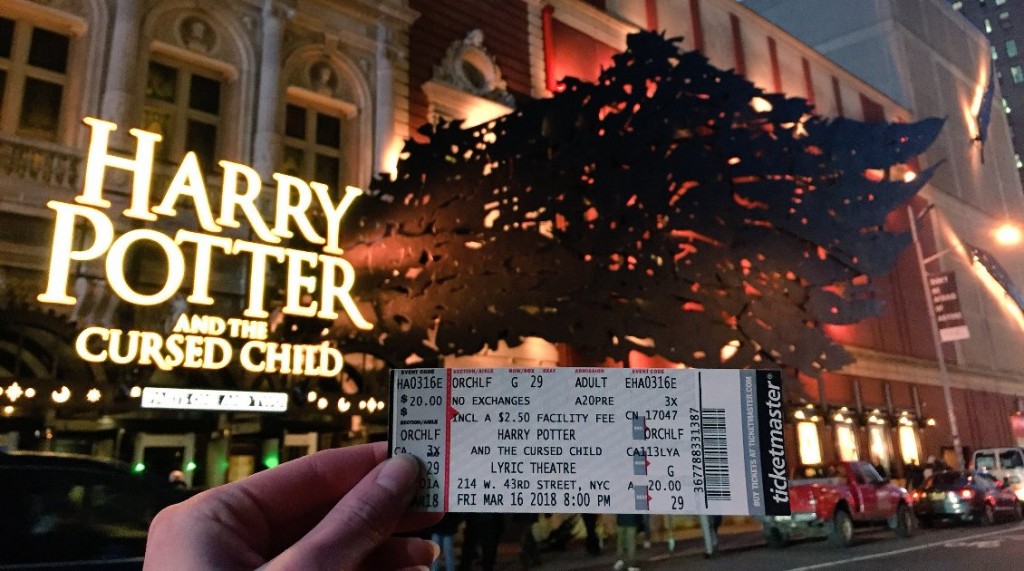 Though the lead-up to the Tony Awards is rife with anticipation and excitement, we would be remiss not to acknowledge awards that consider audience reception as the primary measure of success and accomplishment. After all, isn't it about the theater-going fans in the end?
Well, now Broadway World has announced the winners for the Broadway World Theater Fans Choice Awards, and Harry Potter and the Cursed Child made a strong showing, capturing the hearts of fans in the following categories: John Tiffany, Best Direction of a Play; Noma Dumezweni, Best Featured Actress in a Play; Best Play and Gareth Fry, Best Sound Design of a Play.
So, congratulations to the cast and crew of Harry Potter and the Cursed Child for their continued winning streak and best of luck heading into the Tony Awards tonight!