Weekly Round-Up: Evanna Lynch Launches Her Vegan Beauty Box, New Interviews with Jude Law, Alison Sudol, Dan Fogler and Ezra Miller, a Holiday Campaign Featuring Zoe Kravitz and More!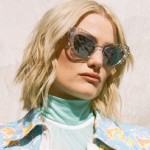 Nov 18, 2018
The release of Crimes of Grindelwald finally arrived this week and there were some major events and news leading up to the mega magical day! HQ Trivia revealed a global Wizarding World trivia contest, Barnes and Noble announced a screenplay release event, Leaky shared first hand interviews with Alison Sudol and Dan Fogler, Eddie Redmayne and Katherine Waterston, Ezra Miller and Claudia Kim and Callum Turner and producer David Heyman from their press tour and we attended the London Premiere of the film! Also this week, Universal's Christmas in the Wizarding World rang in the season, Portkey Games unveiled the first trailer for the upcoming Harry Potter augmented reality game Wizards Unite and we posted reviews for The Magizoologist's Discovery Case and the newly releases Youtube Premium sci-fi series Origin with Tom Felton and Natalia Tena.
This week in our Harry Potter and Fantastic Beasts Actors Round-Up Evanna Lynch launches a vegan subscription beauty box, Jude Law talks Dumbledore with the New York Times, Dan Fogler discusses getting acclimated on The Walking Dead, Zoe Kravitz is featured in a new holiday campaign for Tiffany and Co, Alison Sudol talks with Flaunt Magazine about Fantastic Beasts and releases a new music video, Jessica Williams interviews Michelle Obama and more!
Evanna Lynch Launches Vegan Beauty Box
Evanna Lynch, who swayed and shimmied her way to the finals of Dancing with The Stars, is not only #ProtectingtheSecrets these days for Fantastic Beasts, she's actually saving a fair few of them as well. Lynch, who played our favorite Wrackspurt lover, along with actress Daniella Monet, have launched the vegan and cruelty-free monthly subscription beauty collection, Kinder Beauty Box.  Lynch, a known vegan and animal rights activist and fellow vegan advocate Monet are looking to spread awareness about animal testing and highlight cruelty-free brands to make it simpler to find them on the market. According to their website, subscribers will receive at least three full-sized beauty products as well as some samples that are all 100% guaranteed to be vegan and cruelty-free and a portion of the proceeds go benefit animal and environmental rights causes.
In Lynch's continued mission to support animal rights, she is also one of eight creators, including Kinder Beauty Box co-founder Monet, promoting lux vegan fashion label Delikate Rayne. Take a look at the compelling message below from this group of artists and influencers who share a passion for protecting animals and have discovered the ability to enjoy fashion without compromising animal lives through the brand:
These compassionate #GameChangers are redefining fashion ? Click the link to buy the @DelikateRayne x PETA hat ? #VeganFashion ? Feat. @MYAPLANET9 @DaniellaMonet @sweetpotatosoul @cammiescott @DawnRichard @Evy_Lynch @Rawvana @Renee_Olstead #HarleyQuinnSmith pic.twitter.com/GPU99pvu8y — peta2 (@peta2) November 8, 2018
Jude Law Talks Dumbledore with the New York Times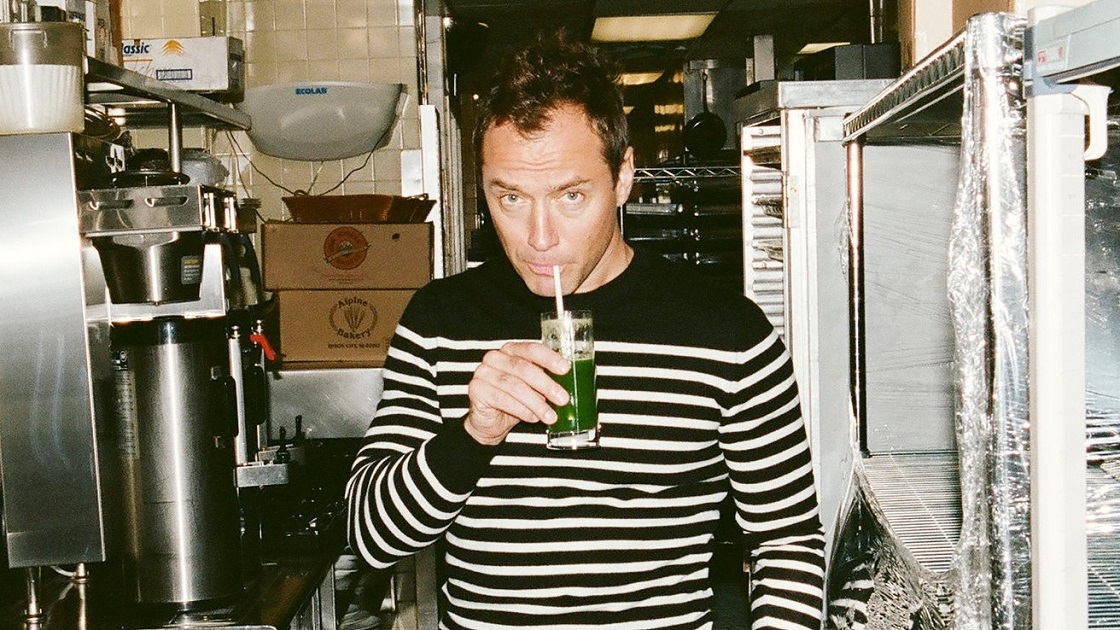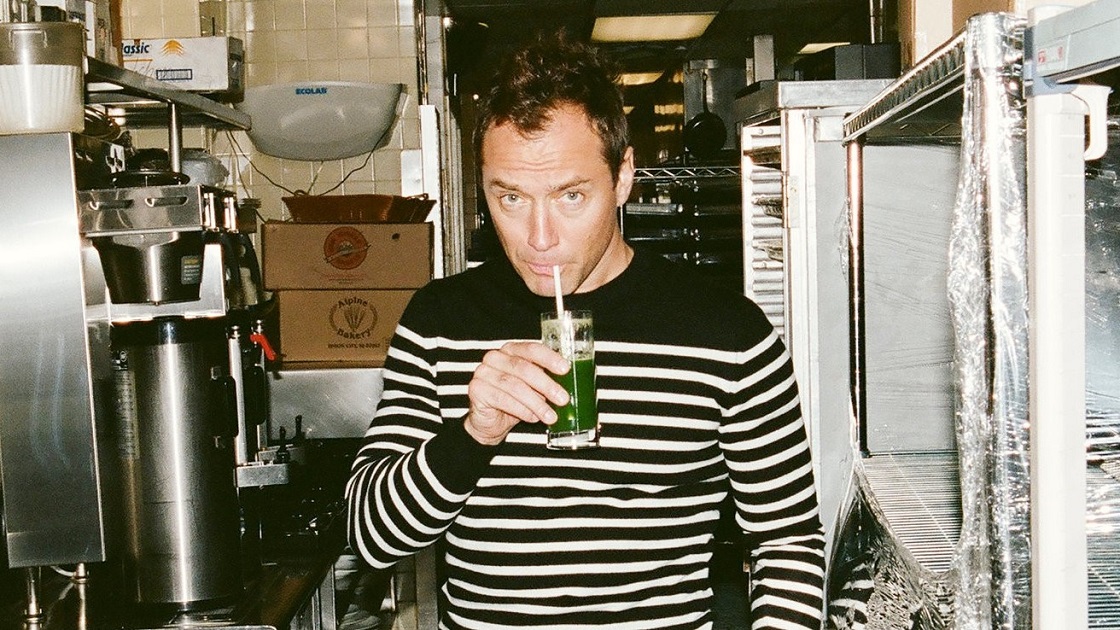 Jude Law, who has stepped into the shoes of the younger version of beloved Hogwarts professor Albus Dumbledore spoke along the Crimes of Grindelwald press tour to the New York Times about being cast in the role, his debrief from J.K. Rowling and his character's relationship with a certain Dark Wizard. When asked if Law thought the film's creative team had him in mind initially for the role of Dumbledore he replied,
"No, I don't believe so. I knew they were looking to bring this character back. And so I put myself forward and, quite rightly, they took it very seriously. They wanted to make sure they got the right person, and I went in and willingly played around in front of a camera so they could have a look at me. I wanted to audition the part just like they wanted to audition me — to get a sense of, 'Can I do this beloved role to millions?'"
After he was cast, Law had the opportunity to spend two and a half hours with Rowling unpacking Dumbledore's backstory. Law said that she paced the floor throughout the visit and explained her disclosure of information she's kept so close to the vest this way,
"It was like a purge, it was like a confession, it was like she was alive in it,"
He shared some of the specifics from their discussion and it does appear there is information we will have to wait to see on screen,
"She took me back through his childhood and how that emotion impacted this young man. One of the key relationships we talked about, of course, was with Gellert Grindelwald, and how that was formative in that it was intense, intimate, passionate. It was the first time Dumbledore met his match and, for a reason I can't divulge, they have this falling out. And it propels them in opposite directions and leaves this wound between them that is still open some 25 years later."
He also touched on Dumbledore's relationship with Grindelwald in response to concerns that he wouldn't be portrayed as "explicitly gay" based on a 2017 interview with director David Yates. Law said this on the topic,
"He didn't say that to me," Law said. "Every time I asked, it was, 'Yes, he is.' In my mind, he is."
Read Jude Law's full interview with the New York Times and read Leaky's exclusive interview with Law at the Crimes of Grindelwald premiere in London.
An Interview and New Music Video for Alison Sudol 
As the Crimes of Grindelwald release approached many of its stars including Alison Sudol, who plays Legilimens Queenie Goldstein, were in demand with numerous media outlets. Sudol recently sat down with Flaunt Magazine to talk Fantastic Beasts and her experience being a part of the Wizarding World franchise. She said this about being a fan of the series herself and about making the films,
"Like anyone committed to fantasy would, Sudol understood the weight behind the role. She was a fan of the Harry Potter series herself; she recalls bringing one of the later novels on tour and reading about horcruxes by flashlight when everyone else was out."[…'In a certain sense, it becomes normal in that we're doing our jobs and we're making the film,' Sudol says, 'but there's always this other thing which is that this is about magic… There is a sort of magic that even the brick and mortar of the moves have.'"
She had this to say on her feelings about the fandom,
"And the way the people react around the world, the way that people need these movies is also that something that I don't really forget. I get reminded of again and again and I'm really grateful for it — I'm grateful to be apart of that special thing."
She also spoke about her newly resurrected music career and said this about music in her life in general,
"There was a force in me that made me have to sing," Sudol tells me. "I had to make music. I doubted myself all the time, but I had to keep going. It was like breathing."
Read Alison Sudol's full interview in Flaunt Magazine as well as Leaky's roundtable interview with her from the Crimes of Grindelwald press tour and take a look at her latest music video "Escape the Blade" from her new EP Moon:

Tiffany and Co's Holiday Campaign Featuring Zoe Kravitz
Crime's of Grindelwald's Leta Lestrange, Zoe Kravitz, is doing some Fantastic holiday dreaming in a brand new campaign for luxury jeweler Tiffany and Co. Take a look below at the vivid fantasyland created by director Mark Romenak, one of the masterminds behind Beyonce's Lemonade album and don't miss Zoe Kravitz as pureblood witch Leta Lestrange in Crimes of Grindelwald!

An Interview with Dan Fogler on his New Role in The Walking Dead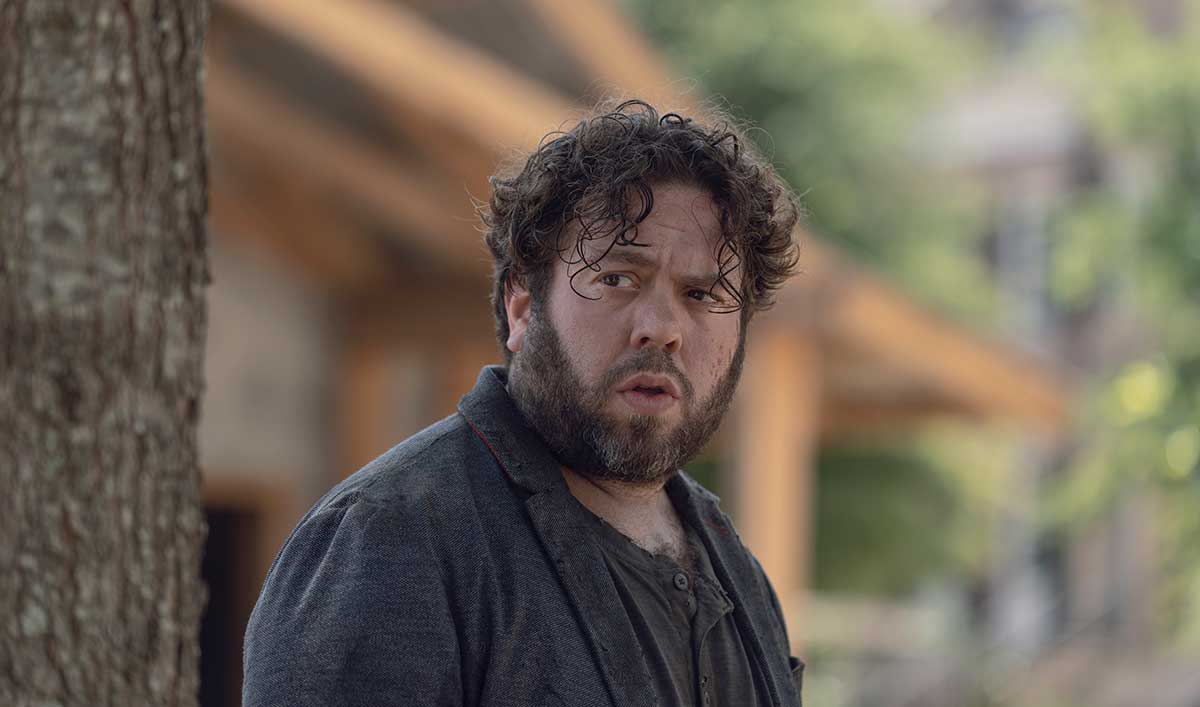 Dan Fogler who plays No-Maj Jacob Kowalski in Fantastic Beasts is now a member of another mega fandom since his recent debut on AMC's hit series The Walking Dead. An interview with Fogler, who plays music teacher Luke, appeared this week on the network's blog for the show, after his second episode. (SPOILER ALERT for those who have not seen last Sunday's episode)
When asked about his first days on set of this well-established series, Fogler said,
"It was really cool. We were thrown right into it. It's this scene where we're surrounded and we're being directed by Greg Nicotero. So, you have this genius who is conducting this controlled chaos of walkers closing in on us from all sides. Even though it was the first day, it wasn't hard to get into that mindset because of the way they set it up. Right away, I'm killing walkers and it's this iconic moment where it looks like we're done for. And suddenly, the walkers start getting picked off and we start running towards this voice in the middle of the woods, and it's little Judith Grimes — but she's not the little girl that we remember. She's this 10-year-old who's wearing her daddy's hat and who just saved our lives. It was so surreal. So, that was the first day, man! [Laughs] Andrew Linclon has set this high mark of giving it your all. You walk into that and you see that on set."
He talked about the experience of building a relationship with his new castmates, including Lauren Ridloff who is the first hearing impaired actor in The Walking Dead cast,
"We had about two weeks of rehearsal where we all stayed at the same hotel and we got to be a family, essentially. Each one of them is even more lovely than the next… The chemistry was there immediately and then there was the bonding experience over learning sign language. That was our special thing that helped us survive. Lauren [Ridloff] plays Connie and she was basically our secret weapon out in the wilderness. Even though she's deaf, her other senses were extremely heightened and we were able to communicate in silence with each other."
Fogler also provided this insight into his character, as well as himself personally,
"With Luke, I oftentimes feel like I'm speaking in my own voice. He's me in a parallel universe if acting didn't work out and the apocalypse happened. [Laughs] We formed a strong bond and I think it comes through on screen in each episode. Every time we save each other's lives, the bond grows stronger."
We're wondering if he feels at all like that about Jacob! Don't miss Dan Fogler on Sunday nights in the last two episodes of The Walking Dead season 9. We hope to see his Fantastic performances again in the fall, but you never know who's going to survive in the zombie apocalypse! Read Dan Fogler's full interview with AMC and Leaky's Crimes of Grindelwald press tour roundtable interview.
Ezra Miller's Revelio in a New Interview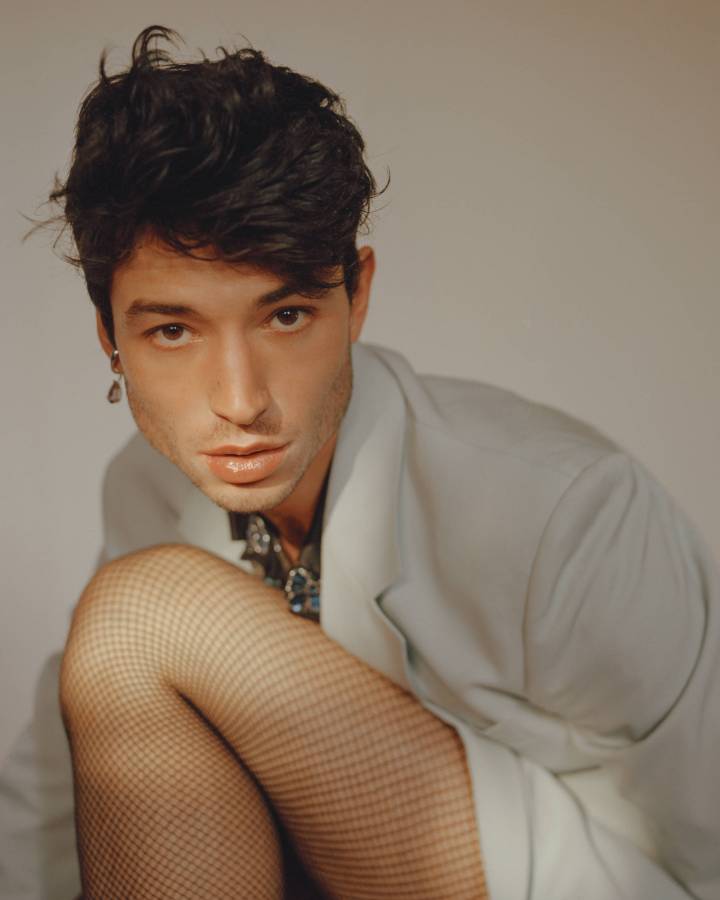 Ezra Miller who plays Obscurial Credence Barebone in Fantastic Beasts seems to keep the fandom guessing with his insightful conversation and unconventional flair for fashion. His latest interview and photoshoot with Playboy certainly follows suit and includes his thoughts on some controversial Crimes of Grindelwald topics. Early in the piece director David Yates is quoted on his impressions of Miller,
"I've never ever quite met anyone like Ezra," David Yates, who directed the final four films in the Harry Potterseries and the first two Fantastic Beasts, tells me. Yates praises Miller as "quite simply a sublime actor" who is "universally loved" by his Beasts cohorts. "He brings a good deal of joy with him every time he steps on set. Between takes, he'll either be doing some Mongolian throat singing, practicing chi gung or just having a laugh with the crew." I don't get treated to any throat singing during our time together, but Miller does impersonate Yoda at one point, after he says that he, much like the Jedi Master, doesn't believe in "try.
According to the article, Miller really practiced some method acting techniques in preparation for the film,
"Before Crimes of Grindelwald went into production, Miller took to Europe, where he spent time in isolation, introduced himself to strangers in character and even started stealing—although he says he was quick to return any pilfered cash."
Miller had this to say when asked about how Dumbledore and Grindelwald's relationship would be portrayed on screen,
"I definitely started drawing conclusions about [the romance] from the time that we first started working on the first film," says the actor, who personally identifies as queer and sees it as "an umbrella of non-identification." He makes it clear that, like any true Potter fan, he trusts that Rowling—"Jo," as he calls her—would make the right call, despite fans expressing concerns on social media over the first trailer not addressing Dumbledore's sexual orientation. "Knowing that Jo, with that brilliant mind for the ambiguity of people—morally, in terms of how we classify them on a spectrum from good to evil—I knew that she would be interested in exploring."
See Miller's interview with Playboy in its entirely including his thoughts on casting Johnny Depp as Grindelwald and his complete photoshoot-EXPLICIT CONTENT ALERT
You can also read Leaky's interview with Ezra Miller from the Crimes of Grindelwald cast press tour.
Jessica Williams' 2 Dope Queens Wraps Up with Michelle Obama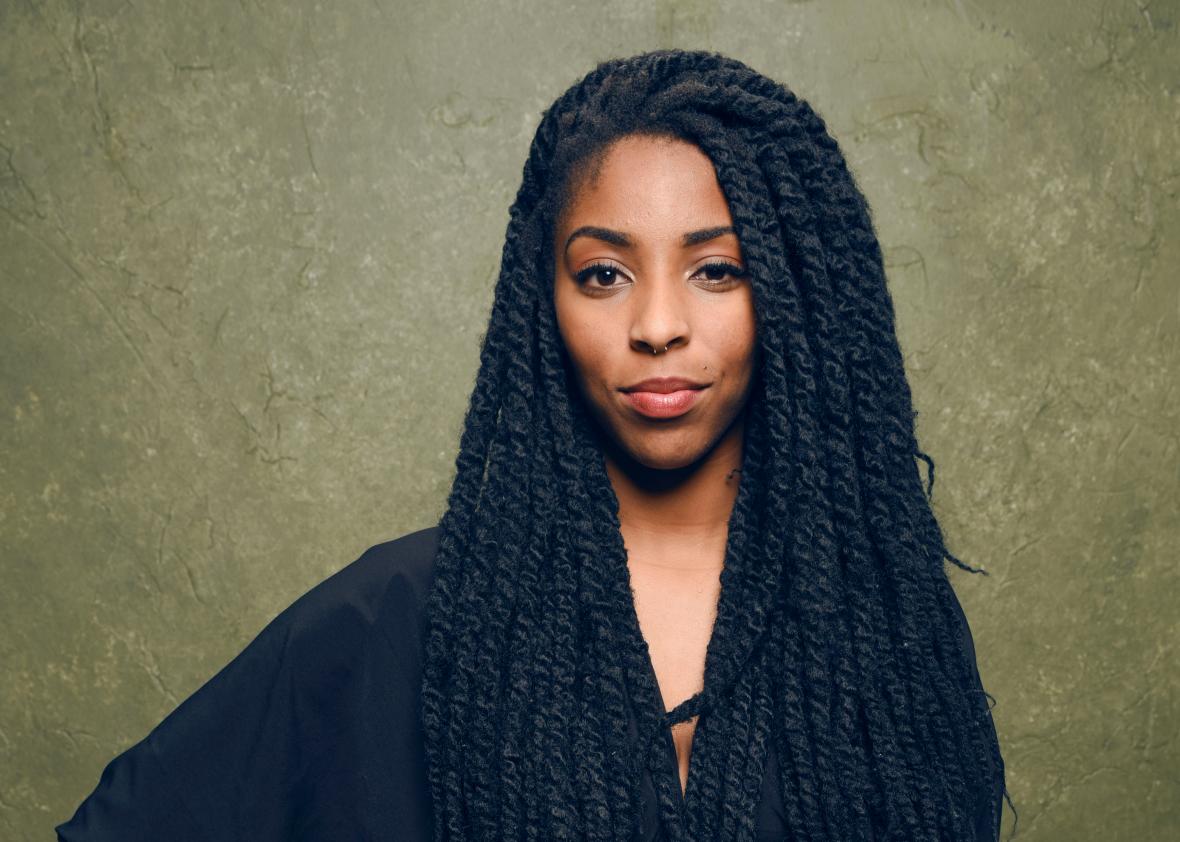 One of the newest members of the Wizarding World, former Daily Show correspondent Jessica Williams who play Ilvermorny Professor Eulalie Hicks in Fantastic Beasts, wrapped up her hit podcast 2 Dope Queens on a pretty magical note when she and her comedy partner Phoebe Robinson interviewed former First Lady Michelle Obama. Obama is out promoting her new book Becoming which gives a candid look at her marriage, having children and her time in the White House. She told Williams and Robinson this about dealing with anger and the reaction to her quote on the 2016 campaign trail "When they go low, we go high.",
"Brother can't get too angry if he wants to move things forward. He doesn't have the leeway to solve problems with anger…And that remains true for women and minorities," she adds. "I don't get the benefit of the doubt … Every word I uttered on the campaign trail was picked apart and it was analyzed and oftentimes incorrectly … I had to control my voice so that it wouldn't be misinterpreted."
2 Dope Queens has come to a close but Williams can be seen in Crimes of Grindelwald and in the upcoming Hulu original limited comedy series Four Weddings and a Funeral which is currently in production in London. The final episode of 2 Dope Queens with Michelle Obama can be found on NPR.
Olwen Fouéré on Her First Wizarding World Experience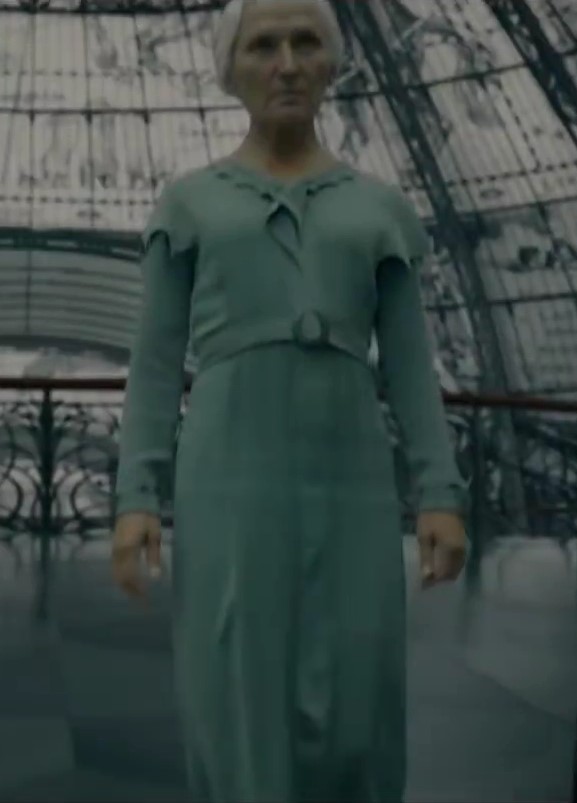 Irish actress, writer and director Olwen Fouéré joined the cast of Crimes of Grindelwald as Melusine, the guardian of the archives (and keeper of those creepy cats, the Matagots) at the French Ministry of Magic. She said this about her experience working on Fantastic Beasts, the level of security she encountered, and a Harry Potter role she once turned down,
"It was great. It came out of the blue as a straight offer which is always appreciated (no auditions!). And the whole process was top secret, I could only access the script online with a special code and I didn't even know my character's name until after my costume fitting. I had one other encounter with the Harry Potter world when I was approached years ago about playing a Death Eater but I wasn't available. So it was great to be approached again. I enjoyed every minute on set, brief as it was, and the atmosphere was very relaxed and friendly. It was a normal working day from my point of view except afterwards I remember thinking: "wow, how many millions of people are going to see that!"
Those are a couple of great details from one of the newest members of the Wizarding World! Fouéré's full interview can be found in Irish Country Magazine.
Colin Farrell in the first trailer for Disney's Live Action Dumbo
Colin Farrell, who played the ill-fated MACUSA auror who was revealed to be Dark Wizard Gellert Grindelwald in Fantastic Beasts and Where to Find Them, stars in Disney's upcoming live action remake of Dumbo, the story of a young circus elephant who is ridiculed by his fellow pachyderms and befriended by a mouse. In the remake, Farrell plays war veteran and former circus star Holt Farrier who, along with a ruthless entrepreneur that tries to exploit the elephant, separates him from his mother. Luckily for Dumbo, Farriers children are the catalysts in this version that come to his rescue. According to Digital Spy, Disney executive Cathleen Taff says this about the remake kicking off with the elephant's affinity for flying,
"We've expanded the story, taking that as a jumping-off point for Dumbo's newest story."
Take a look at the trailer for Dumbo below which opens in US and UK theaters March 29, 2019.

Bill Nighy in the First Trailer for Detective Pikachu
The upcoming live action adventure film Pokemon: Detective Pikachu with Bill Nighy, Minister of Magic Rufus Scrimgeour in Deathly Hallows Part 1, revealed its first trailer earlier this week. Based on the video game Great Detective Pikachu, where players work with Pokemon characters to solve mysteries, the film is scheduled to be released May 19, 2019. Nighy's role still a mystery but it is unmistakably his voice that we hear as the sneak peek kicks off:

That wraps up our Harry Potter and Fantastic Beasts Round-Up for Crimes of Grindelwald release week. There is so much Potterverse-related news from the stage this week as well, so don't miss our latest Theater Round-Up and Happy Thanksgiving to all the U.S. fans!