Luke Youngblood Returns For LeakyCon Boston, & Programming Announced!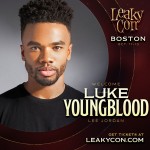 Aug 27, 2019
Luke Youngblood played Lee Jordan, just about the best Quidditch commentator around in the Harry Potter films, and he'll be bringing back the magic for LeakyCon's tenth anniversary in Boston this October!
Luke Youngblood will be joined by Chris Rankin (Percy Weasley) and Dan Fogler (Jacob Kowalski in Fantastic Beasts), who have also been announced as special guests, along with some of the top names in the wizard rock genre. Mischief Management announced that the biggest Harry Potter fan convention will also host Harry and the Potters, Draco and the Malfoys, Tonks and the Aurors and Lauren Fairweather at LeakyCon Boston. More announcements are expected to come in the following weeks. MuggleCast will also be joining us to celebrate 10 years of LeakyCon!
Bookings for autographs and photograph sessions are available via the official LeakyCon website.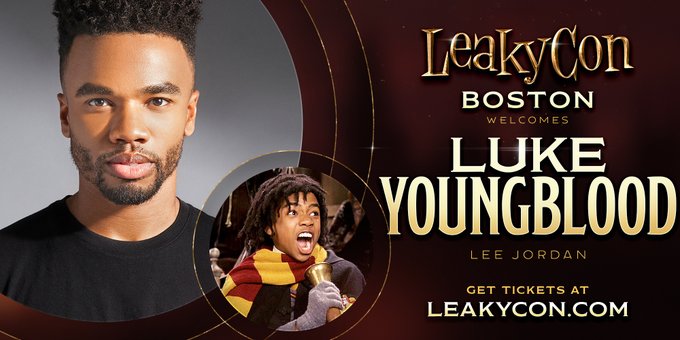 Initial programming recently released for the convention, featuring three days of Wizarding World panels, house meet-ups, wizard rock discussions, and – for the first time ever – a Snitchwiches panel by Harry and the Potters, announced at LeakyCon Dallas this month.
We are also excited to announced that The Leaky Cauldron team will host our own panel, along with Leaky's Webmistress, co-host on PotterCast, Mischief Management CEO and LeakyCon Founder, Melissa Anelli, and Leaky's Creative Director and co-host of PotterCast, John Noe. The panel is due to take place Saturday, October 12, between 2pm-3pm EST (though the schedule could change, so stay posted!).
Details are as follows:
19 Years Later, Still The Most Trusted Name In Potter: A Cauldronside Fansite Chat with The-Leaky-Cauldron.org
Where would the Harry Potter fandom be without the internet? Next year marks 20 years of The-Leaky-Cauldron.org, and the team is coming together to celebrate our 19 Years Later with a panel featuring Webmistress Melissa Anelli, Creative Director and PotterCast co-host John Noe, Leaky's Senior Editor Emma Pocock and, current editors and writers. 
Please come along, bring your questions and do let us know if you'll be there – we'd love to see you and celebrate the online fandom together! Get a taste for what to expect here.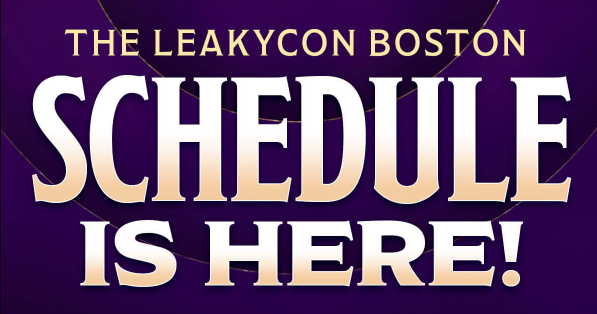 Other schedule highlights include:
Science in Harry Potter:
What happens if a dementor eats chocolate? Are there "wizard genes"? How do we as readers understand magic, such that Hogwarts students learn to transfigure buttons before hedgehogs? As Unspeakables and Magizoologists (Muggle Disguise: Scientists), we have investigated how the Wizarding World works both formally and informally, and are excited to share our thoughts and findings to answer your questions!
An Excess of "Phlegm" and the Lack of Femme
Heroines of Harry Potter are often presented as and praised for not being classically feminine, while "feminine" characters are seen as inherently flawed.In this panel, we'll discuss how Rowling presents feminine characters like Cho, Fleur, Lavender, and Parvati, the sexist implications, and their negative effects on fandom.
Decreasing World Suck: Fan Activism Across the Globe
Sure, you already know about fan activism organizations like the Harry Potter Alliance and Nerdfighteria here in the United States, but how much do you know about fan activism in other countries? Come hear about Pottermania in China, KPop influences on Latin American youth, Twitter activism in South Africa and other instances in which fans transform storyworld elements into real-time ethical and social change. 
The LeakyCon 2019 Gender-Expansive Meetup!
"We're all human aren't we?" Kingsley Shacklebolt said it best. If having to choose between "M or F" on some form makes you cringe, we have just the meetup for you. Those who identify as agender, intersex, genderfluid, non-binary or any variation under the gender non-conforming umbrella will enjoy our gender-expansive meetup. Meet other LeakyCon attendees, share personal and fandom stories, and make friends to last a lifetime.
Time Travel in the Wizarding World: The When, the How, the Why, and the When
Time-Turners. They pop in the Harry Potter universe as confusing plot devices, but their secret is that they are part of a much larger tradition of time travel in fiction. How do Rowling's Time Turner's work? Are there consistent rules? Why can't Harry just use one to go back in time and kill baby Voldemort? We'll cover all that and more. Just remember, if someone offers you the chance to travel through time, don't do it!
Swish and Clip: Our Favorite Scenes That Did Not Make the Final Cut
The cuts throughout the Harry Potter films have sparked a lot of discussion and controversy throughout the fandom. In this panel, we'll discuss some of the most talked about cuts, why they may have been cut, why the films are better for some cuts, and scenes that were filmed but didn't make the final cut. Come ready to share your opinions!
Ridiculous Harry Potter fan theories that ended up being true
We talk a lot about all of the fan theories that were wrong…but what about the ones that were right? Ren Hen's soul splitting theory haunts us to this day, Snape loving Lily sounded like bad fanfic, and who could forget John Noe's infamous Mr. Blood? Join us while we discuss the shock of finding out who got it right, and if you remember any others, we'd love to discuss!
Harry Potter and the Question of Canon
As Potter fans move further away from the core novels and into the realms of Fantastic Beasts, Cursed Child, the Universal parks, WizardingWorld.com, and more, how do we negotiate our concepts of what is canon and what isn't? What happens when something Jo writes on Twitter contradicts something in the books? What about the films or stage shows? Do we accept spells and characters in the video games as official? Join the hosts of Hold My Butterbeer, a new Harry Potter podcast, as they discuss navigating Harry Potter canon.
Everything You Ever Wanted to Know about Harry Potter Cosplay
Whether you are new to cosplaying for Harry Potter and Fantastic Beasts or curious to learn new techniques, our expert panel of cosplayers are ready to answer your questions! During this panel, they will demonstrate how to read a pattern for Harry Potter robes and show how they made some of their Wizarding costumes. There will be plenty of time for the audience to ask questions.
Find the full initial schedule here.
Calling all mischief makers: we're still looking for a few friendly faces with some extra magic to spare for LeakyCon Boston! Apply to be a volunteer at https://t.co/bGp303qpwq! pic.twitter.com/6JMopYHyL8

— LeakyCon (@LeakyCon) August 26, 2019
LeakyCon's tenth anniversary convention will take place October 11-13, 2019, at the Seaport Hotel and World Trade Center in Boston, following September's 'pop-up' LeakyCon at Rose City Comic Con.
Mischief Management also recently announced that Evanna Lynch is their first confirmed guest for LeakyCon 2020, taking place July 31-August 2nd at the Orange County Convention Center in Orlando, Florida.
Find out more, book tickets and scour the schedule at the LeakyCon official website.