California's Books Inc to hold Mindnight Launch Events for Book 5 – Including Disneyland Store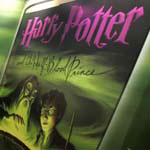 May 28, 2003
Uncategorized
According to a news release Books Inc., the West's Oldest Independent Bookseller, is hosting midnight release parties for the much anticipated Harry Potter and the Order of the Phoenix, beginning Friday evening, June 20, 2003, at seven Books Inc. locations.
Locations include, three San Francisco locations (Market St., Laurel Village, and Chestnut St.), the Burlingame, Palo Alto, and Mountain View stores.
If you're lucky enough to be a Disneyland Annual Pass holder, you can attend the event at Compass Books & Café in Downtown Disney, Anaheim, CA.
Full details at MUARI.org.
(Editor's Note: Due to several emails and comments, I want to clarify that the Downtown Disneyland event is ONLY for Disneyland Annual Pass holders and that potential attendees MUST RSVP via telephone: +1.714.502.9999. I received this information directly from Books Inc. Event Coordinator. Normal hours are 8am – 10pm. However the party is from 11pm – 1am, when the store is not open to the public.)