UK Audiobook Not Due Until September 22nd, 2003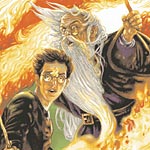 May 28, 2003
Uncategorized
There's been some confusion as to why the US edition audio versions (CD and casette) of Book V will be out June 21st and the UK edition won't be released until September 22nd, 2003.
Reader Liz sent us a response from the BBC that should clear things up:
We are delighted to be able to confirm that the publication date has been announced as September 22nd, 2003. We are equally delighted to confirm that it will be Stephen Fry who will once again be reading the audio version. Stephen will be in the studio in August to record 'Harry Potter and the
order of the Phoenix' after completing work on his new film, 'Bright Young
Things'.
The movie has a STELLAR cast though I echo Liz's sentiments as to why Fry wouldn't make the time to get his version out with the one in the US.