Introducing THE FLOO NETWORK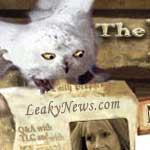 Jun 06, 2003
Hey all – as you might have noticed, we've undergone a bit of a redesign. You'll see above that we are now part of The Floo Network, the most exciting thing to ever happen to this site.
The Floo Network is composed of four sites: The Harry Potter Lexicon, run by the incomparable Steve van der Ark, who has been compiling details about the Harry Potter books into a massive encyclopedic format for years and has the best reference guide to Harry Potter available anywhere; Quick Quotes, formerly known as the Aberforth's Goat archive, run by the ingenious Mike Gray, who decided one day, a few years ago, that we needed all of J.K.R.'s quotes in one place; the Galleries, a coming-soon site that will house our huge archive of pictures, and of course, in news, TLC.
The aim of this project is to create a vast canon database for all our readers, and we've done that; this is now the most exhaustive HP research site on the Web. As we prepare for the release of the fifth Potter book, we want you to be connected to whatever you need to find; from Hermione's birthday to whatever it was JKR said about trolls. The sites joining through this partnership were independently the largest archives of their kind on the web; now they are one tremendous archive that will aid each other and in return you.
So browse around, get your feet wet. All you need to do is click the toolbar. Be warned that like all new projects, there are kinks that still need to be worked out (for instance, our navbar has disappeared to halfway down the page, a kink I'm letting BK figure out when he wakes!), so proceed knowing that everything is a work in progress. The Lexicon has a new domain, Quick Quotes has a huge amount of recently-discovered articles, we continue to provide you with news and the Galleries – well, they're going to tease you for a while, until after Book V comes out.
Well, enjoy! We are sure to have more updates soon!