Absolutely Gorgeous, Amazing OotP Fan Art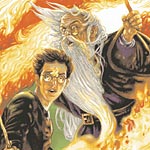 Jul 24, 2003
Uncategorized
As many of you long-time fans will know, I RARELY highlight fan art or fanfic on TLC but after seeing Marta T's art as she slowly works her way through chapter-by-chapter of Book 5, I really had to share it.
Marta, who hosts her art at Web site Art Dungeon, says she does the illustrations in watercolor and the OotP pics in pencils.
Out of all the pictures she's done so far – I have to say my favorite is "The Kiss". Meanwhile, I'm looking forward to see her Thestrals, some of the battle in the DoM, and Harry's Hearing with all those Witches & Wizards.
I hope you enjoy this as much as I have.