Spanish Edition of Harry to be Published in February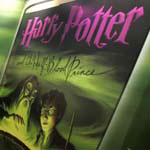 Oct 11, 2003
Uncategorized
mihu23 from HarryLatino.com wrote to tell us that the Spanish edition of Harry Potter and the Order of the Phoenix will be released on the 21st of February, 2004. Thanks to mihu for the news, and for the translation of the article.
FRANCFORT (GERMANY).- The spanish edition of the fifth tome of Harry Potter's series, will hit stores in Spain at February 21 2004, anunced Salamandra editorial in the Francfort Fair Book . The spanish edition will have 3 different versions: Spain, Southamerica and Mexico, Colombia & USA edition, with the particularities of the regional language.
The initial printing in Spain of the new Harry Potter book will be of 500,000 books, and the total printing of the other two versions will be of 300,000 books. Simultaneously, the catalan version will hit the stores wit a printing of 50,000 books.
The election of February 21 for the publication of the book is because that day is Saturday, so the schools are close and the children can go to the bookstores for the new Harry Potter book.
In comparison with others foreign editions, the spanish will be out a little bit later, Salamandra has explained, that they use only one translator, not a team of translators.
The italian edition will hit stores in october, german edition in november and french in december of this year. The other four Harry Potter books had sold in Spain 6 millions of books in spanish edition and 300,000 in catalan edition.
The case of "Harry Potter y la Orden del Fenix" is special, because the english edition has been a total success in foreign countries and had reached the first place ins the "best seller list" in Latinamerica and Germany. In this country, according to the presidente of German Bookseller Association, the english edition has sold 700,000 copies.
The german editorial has used the success of Harry Potter to try to give suport to the newspapers named "whitout a roof", they had the copyrights to publish the first chapter from October 25, thirteen days before the german edition comes out to sell. The editorial said that with such a desition they give a chance to that publications so they can make a bigger printing.