More on 'Seabottom'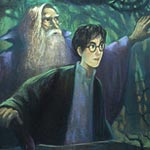 Oct 14, 2003
Uncategorized
TLC Reader Cathy wrote to us with a bit of research on what the recently registered Harry Potter titles may mean. Click on the link below to read her notes, but in summary, her conclusion is what Melissa suggested – that these are likely titles of computer games. Thanks, Cathy!
Yesterday, you listed the notification about the new trademarks with the phrase "Harry Potter". I have spent quite a while trying to work out what the patients are for.
In plain English, the classes mean: (09) Technical equipment, everything from mousemats, mobile phone accessories through to GPS systems and computer memory.
(16) Packaging and stationary.
(41) Software development, installation (of anything) and (technical) support for products.
Exact wording:
(9) Scientific, nautical, surveying, photographic, cinematographic, optical, weighing, measuring, signalling, checking (supervision), life-saving and teaching apparatus and instruments; apparatus and instruments for conducting, switching, transforming, accumulating, regulating or controlling electricity; apparatus for recording, transmission or reproduction of sound or images; magnetic data carriers, recording discs; automatic vending machines and mechanisms for coin operated apparatus; cash registers; calculating machines, data processing equipment and computers; fire-extinguishing apparatus.
Includes computer hardware and firmware; computer software (including software downloadable from the Internet); compact discs; digital music (downloadable from the Internet); telecommunications apparatus; computer games equipment adapted for use with TV receivers; mouse mats; mobile phone accessories; contact lenses, spectacles and sunglasses; clothing for protection against accident, irradiation or fire.
Does not Include printed computer manuals which are in Class 16, self contained computer games equipment which is in Class 28, various electrical items (e.g. electric screwdrivers are in Class 7 and electric toothbrushes are in Class 21).
(16) Paper, cardboard and goods made from these materials, not included in other classes; printed matter; book binding material; photographs; stationery; adhesives for stationery or household purposes; artists' materials; paint brushes; typewriters and office requisites (except furniture); instructional and teaching material (except apparatus); plastic materials for packaging (not included in other classes); printers' type; printing blocks.
Includes disposable nappies of paper for babies; printed publications.
Does not Include adhesives for industrial purposes which are in Class 1, electronic publications (downloadable) which are in Class 9, providing electronic publications (not downloadable) which are in Class 41 or wallpaper which is in Class 27.
(41) Scientific and technological services and research and design relating thereto; industrial analysis and research services; design and development of computer hardware and software; legal services.
Includes installation, maintenance and repair of computer software; computer consultancy services; the following Internet related services are also proper to this class: design, drawing and commissioned writing for the compilation of web sites; creating, maintaining and hosting the web sites of others; compilation, creation and maintenance of a register of domain names; leasing of access time to a computer database (the last item reflects the leasing of access time to a computer database on a dedicated line and not access provided by Internet Service Providers to databases in general which is in Class 38). Does not Include providing access to the Internet or portal services which are in Class 38.
Basically it looks like a computer game trade mark. Packaging, game, support.
Also, it is listed as a "community trademark". The only information about Community Trademarks I could find was at http://oami.eu.int/en where they are described as:
1.2. What is a Community Trade Mark (CTM)?
A CTM is a sign for identifying and distinguishing goods or services valid across the European Community, registered with the OHIM in accordance with the conditions specified in the CTMR.
So, they apply to all of the EU.
Something else noteable is that there Seabottom Productions Limited has no website.
In fact, Google claims it is not mentioned on any page that does not also contain "Harry Potter".
http://www.athenaspeaks.com/archives/cat_books.php States that Seabottom Productions has the same London address as Warner Bros. European trademark lawyers and the company was incorporated before the last set of applications were filed.
Also, you may wish to try a full search of trademarks that list "Harry Potter". The total list contains the titles:
HARRY POTTER AND THE HALF-BLOOD PRINCE (The original title for 'Harry Potter and the Chamber of Secrets', probably registered just in case.)
HARRY POTTER AND THE HALLOWS OF HOGWARTS
HARRY POTTER AND THE HOGSMEADE TOMB
HARRY POTTER AND THE HOGWARTS HALLOWS
HARRY POTTER AND THE PARSELTONGUE TROPHY
HARRY POTTER AND THE REALM OF THE LION
HARRY POTTER AND THE SERPENT'S REVENGE
HARRY POTTER AND THE SHADOW OF THE SERPENT
HARRY POTTER AND THE GREAT REVELATION
HARRY POTTER AND THE GREEN FLAME TORCH (Another highly-rumored book title; not actually a book title but may be a video game title, or it was registered once word of it spread around, just in case.)
They were all submitted on 24.07.2003, in the same categories as above, and are all Community patients. These could be future book titles, but they sound more like levels in a computer game.