British Director Slams Columbus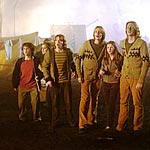 Oct 29, 2003
Uncategorized
Contact Music News reports that Brit director Sir Alan Parker has loudly criticized Christopher Columbus for his handiwork on the first Potter film:
He says, "I like to have creative control and do things my way. It was Americanised. The finance was coming from BURGER KING. They wanted it a certain way."
Thanks to the Leaky readers who sent this in!