Dan Radcliffe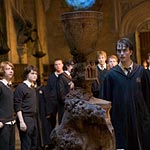 Oct 29, 2003
Uncategorized
DanRadcliffe.co.uk has a letter posted that the site received from Daniel Radcliffe's father, Alan. The update page (scroll down to October 27th) has the photo of Daniel included with the letter.
DanRadcliffe.com also received a letter from Mr. Radcliffe, and the photograph of Daniel (scroll through their updates to view and read).
Thanks to the many TLC readers who sent us links!